Planners approve SkyFlyer blimp plan for Cardiff Bay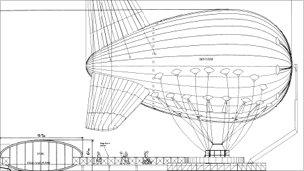 Proposals to put a controversial giant flying blimp in Cardiff Bay have been approved by planners.
A report recommended giving a five-year licence for the SkyFlyer - a tethered helium-filled balloon - taking tourists up 400ft (125m) for a 15-minute ride.
Penarth Marina residents say it will dominate the city's waterfront skyline and threaten their privacy.
Lindstrand Technologies Ltd has said its SkyFlyer will "provide a world-class ride" for visitors.
The blimp - 100ft (31m) long and 55ft (17m) wide - is aimed at offering up to 16 passengers views across the city and the Bristol Channel from 0800 to 2300.
Sited near the lock and fish ladder on the Cardiff Barrage, it would also be lit at night, providing the most high-profile advertising space in the city.
The scheme was opposed by scores of residents who claim the blimp is too large for the location, would be an eyesore and cause traffic congestion.
Around 80 people held a demonstration when planning committee councillors visited the site last week.
One opponent, local resident Hugh Morris, said: "It really is an enormous device - a huge thing.
"It will be illuminated by advertising after dark and will operate until 11 O'clock at night at what is a quiet residential area.
"It will be located under 300 metres from the nearest housing," he told BBC Radio Wales on Wednesday.
The opponents have been backed by Cardiff South and Penarth MP Alun Michael and AM Vaughan Gething.
In a joint letter to the council, they said the SkyFlyer scheme would be "unacceptably intrusive" on nearby homes while "lights on the adverts will cause an obvious nuisance until late at night".
The politicians' letter had called on the council to reject the application and "take the lead in finding the right location".
However, Alistair Gunning, from Lindstrand AeroPlatforms, the company behind the plans, described the balloon as a "real attraction" operating in an area of mixed use and not just housing.
"The offer is for people of all ages to be able to fly and have a wonderful view and flying experience over beautiful countryside and bayside and riverside," he told BBC Radio Wales.
"From the air you can see about 25 to 30 miles on a good day and it is a very pleasant experience."
A report discussed by Cardiff planners recommended the go-ahead as it would tie in with the council's aims to provide "distinctive and high quality activities to encourage year-round visits".
It argued that the nearest residential property would be 320m from the SkyFlyer.
Related Internet Links
The BBC is not responsible for the content of external sites.