Planet Ice rink: Cardiff council considers new tender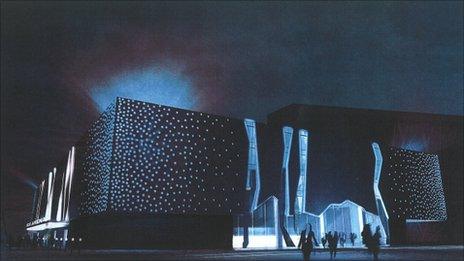 A contract with a leisure firm to design, build and run a new ice rink for Cardiff may be ended by council leaders.
Planet Ice was awarded the tender last August to build the rink for Cardiff's International Sports Village.
But the council has now said it has not had "the comfort required" from the firm to show this could go ahead, and a fresh tender is to be considered.
Planet Ice has been asked to comment on the matter.
Under the existing contract the firm, which operates a temporary ice arena in Empire Way, Cardiff Bay, was due to run the new rink as well as design and build it.
In a statement Cardiff council said it had worked constructively with Planet Ice over the last four-and-a-half years.
But the council added: "We were unable to find the comfort that we required from them to show the ice rink would now be progressed.
"As a result it is being recommended that the executive cancels the current tender.
"Instead it is proposed to deliver a new ice arena, as a priority, within a new waterfront tender which would go out this summer."
If agreed by the council's executive at a meeting on Thursday, the new contract would include the building of the ice arena, a ski slope, leisure snow and ice centre, multi-storey car park, hotel, bars, restaurants, sports and leisure facilities and sports retail.
Cardiff council said this development would be built at no cost to itself.
Council leader Rodney Berman said: "On Thursday the executive will be looking at the option of progressing a new waterfront tender that can take the (International Sports Village) to the next level, including the building of a new ice arena as a priority.
"It is vital that we deliver this permanent ice rink which is why we are looking to undertake a new tender for this facility.
"The creation of high quality leisure development attractions can only add to Cardiff's reputation as a world-class destination."
The council said that, if agreed, a new development partner would be appointed in early 2012 and it hoped work on the waterfront scheme would begin in mid-2012.
Cardiff Devils who play ice hockey at the temporary Planet Ice Cardiff Arena, said they were monitoring events "with great interest".
Devils owner Paul Ragan said the club empathised with Planet Ice, with which it had worked closely in recent years.
But he added that the "decisive move by the council shows that... (Cardiff council) are willing to do what is necessary to lay the foundations for a facility of which this city can be proud".
At the time of awarding the tender to Planet Ice last August it was said work was due to be completed by February 2012.
Cardiff's former rink in the city centre had to be demolished as part of the St David's shopping development.
Related Internet Links
The BBC is not responsible for the content of external sites.