Crackdown on nuisance drunks in St Mary Street, Cardiff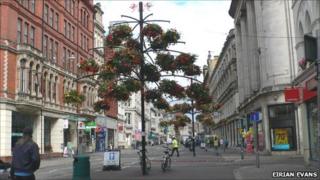 Police in Cardiff are targeting 30 street drinkers who they say are disrupting business and intimidating shoppers in the city centre.
Officers have written to two dozen off-licences asking them not to serve 23 men and seven women it has named.
A homelessness charity is offering to help the drinkers beat their addiction.
Store owner David Hughes-Lewis said: "The fault lies with irresponsible retailers selling alcohol to people who are obviously drunk."
South Wales Police said they were cracking down on anti-social behaviour after a series of complaints about people hanging around St Mary Street and the square opposite the bus station.
A spokeswoman said the complaints were about people who sometimes gathered in large groups while drinking throughout the day.
She said: "They are rude to passers-by and to shoppers, intimidating people. If there is a big group, people are bound to feel intimidated.
"People arrive at the lower end of the city centre and are confronted by a group of intoxicated individuals who are making a nuisance of themselves.
"Recently we have noticed there was an increase in anti-social behaviour."
She said police wanted stores to stop selling drink to those they had identified to tackle the "root problem" rather than to be continually arresting them.
Mr Hughes-Lewis, chairman of Cardiff Retail Partnership, who runs an independent jewellery store, said it was an issue he had raised with police over months.
He said: "The problem is that by 10 o'clock they are absolutely wrecked.
'Objectionable'
"They are foul and abusive. They are intimidating to pedestrians. They are usually begging and asking people for money.
"We had one who urinated in our doorway at about 10.30 one morning.
"He was so foul and objectionable, we ended up having him taken away by the police after he attacked my son and had to be restrained.
"They are same ones every day, in and around St Mary Street and it's getting worse."
Cardiff council is backing the crackdown, along with the charity Huggard.
'An illness'
Judith Woodman, the council executive member for communities, housing and social justice, said: "It's important that we remember that vulnerable people are part of society and as a council we need to make sure we assist those who are battling addiction, but at the same time we need we need to address anti-social behaviour".
Huggard chief executive Richard Edwards said it would offer support, help and advice to "extremely vulnerable people who have an alcohol addiction and may engage in anti-social behaviour as a consequence".
He said: "Huggard hopes that this initiative will encourage chronic drinkers, with Huggard's support, who are unable to escape the resulting street culture to address a very real barrier that often prevents them from building independent and sustainable lives."
Chief Insp Alun Morgan, of South Wales Police, said: "We recognise that alcoholism is an illness and there are support teams available in the city centre to assist these vulnerable people."