JK Rowling's Harry Potter 'inspiration' home for sale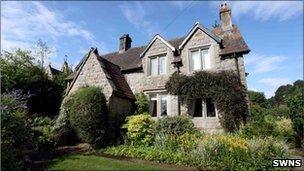 The childhood home that inspired Harry Potter author JK Rowling has been put up for sale.
With its gothic architecture, a trap door, eerie cellar and a cupboard under the stairs, the Grade II-listed Church Cottage in Tutshill, near Chepstow, has echoes of the corridors of Hogwarts.
Current owner Julian Mercer, a BBC producer, bought the three-bedroom house from the Rowling family in 1995.
One room has "Joanne Rowling slept here circa 1982" scrawled on the wall.
The author, now 45, lived at the house with her mother Anne, father Peter and sister Diane from the age of nine to 18.
After she left home to study French and classics at Exeter University, her parents remained at the cottage until her mother died, following a 10-year battle with multiple sclerosis.
The detached stone cottage is thought to have been the main inspiration behind the Harry Potter series, which has since become a multi-million pound franchise, with seven novels and eight films.
The adventures of adolescent wizard Harry and his friends Hermione and Ron has captured the imagination of both children and adults worldwide.
Fans would recognise many parallels with the story at Church Cottage.
In particular, a dusty cupboard under the stairs is reminiscent of where Harry is forced to live by his evil auntie Petunia and uncle Vernon Dursley in the first book.
And the dining room has a spooky trap door, perfect for wizard Harry to make a quick escape.
Current owner Mr Mercer said fans still make pilgrimages to the "home of Harry Potter".
"For years, every time a book or a film came out, there were always members of the public asking to come in to see the house," he said.
"That's been happening ever since the book came out. But we haven't let them in."
JK Rowling even used the name of her home village - Tutshill - as one of the Quidditch teams in the books.
But Mr Mercer said that, when the first book was published, he could see just "where she got the gothic imagery for Hogwarts from".
"The house is mid-Victorian revival," he said.
"There's a trap door in the dining room and an under-the-stairs cupboard, like the one in Aunt Petunia's house in the first book."
He added his two daughters enjoyed living in the house where their favourite author grew up.
"We've got all her books here, my two daughters - who are grown up now - used to read them," he said.
"I suppose we were always conscious then [after the author became famous] that it was her home."
Related Internet Links
The BBC is not responsible for the content of external sites.