Buzzard injures jogger Alan Rosier in Pontywaun attack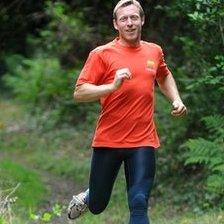 A runner has been injured by a swooping buzzard as he jogged through a forest near his home
Alan Rosier, 37, said he was in shock after being hit on the back of the head by the bird of prey at Pontywaun, Caerphilly county.
The geologist suffered a gash on his neck caused by the bird's talons.
A spokesman for the Forestry Commission said it was very unusual for a buzzard to attack a human.
"I've never seen anything like it. It was a real shock to see a bird attack like that," said Mr Rosier.
He said the bird just missed him as he passed the first time, but caught up with him as he was running back.
"It hit me in the back of the head and caused a gash. I kept on running just to get away," he said.
Mr Rosier said his fiance, an ecologist, told him the buzzard was probably protecting its young in a nearby nest.
"It was very surprising and I won't be running along that track again for a few weeks when I know the buzzard's young fledglings should have flown the nest," he said.
A father-of-two, he is a former triathlon competitor, and trains for local 5km races.
He said he regularly sees the birds when he runs, but they are usually high in the sky.
"I didn't think I was in any danger from them," he said.
"I was lucky to escape more serious injury and don't want to be dive-bombed again."
Clive Davies, from the Forestry Commission, said: "They are very territorial but we have never heard of an incident like this before in Wales - usually they only attack other birds.
"Buzzards nest from April until July and normally they would have flown the nest by now.
"It may have been a young bird which was startled," he added.
In June last year a 71-year-old man was injured after being attacked by a buzzard in a field in Worcestershire.
Nick George suffered deep claw injuries to his head when the bird dive-bombed him on a path in a wheat field near Severn Stoke.
Related Internet Links
The BBC is not responsible for the content of external sites.