Norway: Prayer service at Cardiff Norwegian Church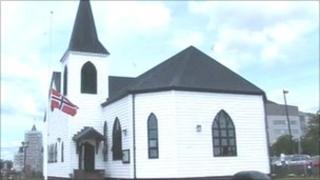 A prayer service to mourn victims of Friday's bomb attack and mass shooting in Norway is to be held at Cardiff's Norwegian Church.
The service on Sunday at 15:00 BST will be led by the Cardiff Bay chaplain, the Reverend Gill Dallow.
Flowers and messages of sympathy were left at the Cardiff church, a well-know landmark, after Friday's killings.
Meanwhile, Welsh Nonconformists have sent a message of condolence to King Harald V, head of the Church of Norway.
Elenid Jones of the Union of Welsh Independents also warned against the dangers of religious extremism.
Ms Jones, chair of the union's Christian citizenship department, said thousands of its members across Wales had prayed for the people of Norway.
'Absolutely horrific'
"As a small Protestant country ourselves, we sympathise deeply with them in their shock and sorrow," she said.
"What happened was absolutely horrific, and for Anders Behring Breivik to label himself a 'fundamentalist Christian' is unbelievable.
"Whatever he calls himself, he quite clearly is not a Christian. It shows how dangerous religious extremism of all kinds can be."
The Cardiff church lowered its flag to half-mast after the killings, and opened a book of condolences.
First Minister Carwyn Jones has written to Norwegian Prime Minister Jens Stoltenberg and Norwegian ambassador Kim Traavik to express his sorrow.
Cardiff's links with Norway developed after the growth in mining in the 19th Century, and the Welsh capital became the world's biggest coal port by World War I.
The church's website says that Cardiff became one of the first cities outside Norway to have such a place of worship.
Norwegian seamen were unable to return to their homeland during World War II when it was occupied, and up to 70,000 Scandinavians were said to have worshipped there every year.