Ride for cure for Abergavenny mother-to-be with cancer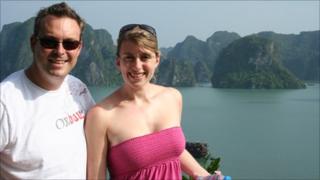 The husband of a woman who has terminal cancer and is expecting twins is cycling from John O'Groats to Land's End to raise money to try to find a cure.
Melanie Jaggard, 32, from Abergavenny, has Adenoid Cystic Carcinoma (ACC), a rare form of head cancer.
She believes she is the first person with the condition to get pregnant, and is expecting twins in October.
Charlie Jaggard will cycle with father-in-law Rod, and hopes to raise £50,000.
He said: "Since I met Mel, I have become heavily involved in trying to raise awareness of ACC.
"We are blessed to be expecting twins in September so my personal interest in finding a cure - very soon - just tripled."
'Live life to the fullest'
Ms Jaggard's cancer was diagnosed in 2007 when a large tumour was found in her head.
The tumour was removed in a 10-hour operation, but she was advised it could return.
Shortly afterwards, she met Mr Jaggard, and they married the following year.
However, six months before the wedding, a routine scan detected shadows in her lungs and she was told the cancer had returned, and no further treatment was possible.
Mrs Jaggard remained determined "to live life to the fullest", and beat the cancer which she said about 20 to 25 people in the UK are diagnosed with each year.
'Silver lining'
She has multiple tumours in her lungs, where tissue is so delicate radiation treatment is risky.
Based on the current growth rate of the tumours, she has been told she has between 10 and 15 years to live.
"I have got this cancer for which there's no treatment, but it's slow-growing," she said.
"The silver lining is that I have a bit of time to try and do something about it.
"It's something that's within our grasp to try and find a cure."
After researching as much as possible the risks to her if she became pregnant, the couple decided to try for a baby.
Although they run in her family, she said they were shocked to discover they were expecting twins.
"As far as I'm aware, I'm the first person to get pregnant while having this disease, so it's a bit of an unknown for us and the medical profession."
Before her twin pregnancy was confirmed, she said they knew they would want more children, but were unsure what the future held in terms of treatment and her health.
She said: "From our perspective, it's perfect. I have one pregnancy, two children."
Believing she still has time to find a cure, she added: "I have got a couple more reasons to live now."
So far, the couple, as well as friends and family, have raised about £20,000, and hope to reach £50,000, which will directly fund research via a rare cancer charity called Get-A-Head, and ACC research in America.
They hope to complete the 874-mile (1,407km) trek in 11 days, with Mrs Jaggard walking a kilometre (0.6 miles) a day.