Lynette White case: Witness Leanne Vilday's 'baby fear'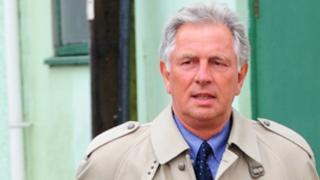 A key witness in the original Lynette White murder trial claimed she changed her story after a detective warned her baby son would be beaten up if she was jailed.
Swansea Crown Court heard Leanne Vilday "cracked" after DI Graham Mouncher showed photos of "beaten up" children.
Three innocent men were jailed for murder but were later freed on appeal.
Eight ex-police officers deny conspiracy to pervert the course of justice.
Two other people deny perjury.
Ms Vilday told jurors she had made 16 statements saying she had been at the home of Michelle Actie in the early hours of 14 February 1988, when Ms White was stabbed to death at the flat where she worked as a prostitute in James Street, Butetown, Cardiff.
But on 6 December 1988, Ms Vilday was picked up "yet again" and taken to Butetown police station.
This time she was dealt with by "a different kind" of police officers, who shouted at her and told her they had a witness who could contradict her version of events.
Angela Psaila, who she was staying with, was then brought into the room. She would not look at Ms Vilday and kept her head down as she said Ms Vilday had been there.
"I was shocked," said Ms Vilday. "I asked them what had they done to Angela but they did not respond. She was taken straight out of the room."
Ms Vilday said she was left alone "for hours" and then taken into a room by Det Insp Mouncher, who on his retirement had the rank of chief inspector.
"He was going on and on at me, that he had a witness. I was going mad with him. He was adamant I had been there.
'Corks being popped'
"He showed me photographs of half caste children and said this will happen to my son when I go to prison. Little kids, beaten up."
By then she said "my head had gone and I didn't know what to do."
She added: "I cracked and I said I had been there. He (DI Mouncher) was happy.
"He left and went into another room. I could hear bottles of champagne as if they knew they were going to crack the case that night.
"I could hear other voices, like a little party. I could hear corks being popped and hurraying."
Ms Vilday said she was led to another room, where she made a statement that would help to put three innocent men in jail.
Ms Vilday said that up to this stage she thought then Det Insp Richard Powell had been in charge of the investigation.
She described him as having been fair and said he had "never done anything wrong to me."
The Cardiff Three were convicted of murder in 1990 and jailed for life. They were released in 1992 when the Court of Appeal quashed the convictions.
Two others also stood trial in 1990 and were found not guilty.
In 2003 advances in DNA helped police trace Jeffrey Gafoor, who admitted Ms White's murder and was jailed for life.
Eight former officers are accused of conspiring to pervert the course of justice.
One of them and two people who gave evidence are also charged with perjury.
They have all pleaded not guilty and the trial continues.