Language activist Jaime Bevan jailed for MP break-in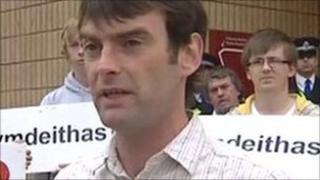 A Welsh language campaigner has been jailed for breaking into Conservative party offices in Cardiff.
Jaime Bevan, 35, of Merthyr Tydfil, was originally given a community order for burglary and wilful damage at Cardiff North MP Jonathan Evans's office.
But Bevan refused to wear a tracking tag and comply with a 28-day curfew.
Instead, the order was dropped and he was jailed for seven days for the burglary to run alongside five days for the damage.
He will serve half of the sentence.
Bevan, whose protest on 6 March over S4C cuts led to broken windows and paint daubed on the walls of the party's office in Whitchurch, refused legal aid.
District judge Bodfan Jenkins said that he had no choice, because of Bevan's attitude, but to send him to jail.
The break-in took place on the day Prime Minister David Cameron addressed the Conservative party conference in Cardiff.
Bevan, a member of Welsh language campaign group Cymdeithas yr Iaith Gymraeg, alerted police to the break-in by phoning them from the premises.
He told the court that "politicians in London continue to ignore all the organisations and voices in Wales over S4C - they continue to insult our small nation".
He said he was not acting for his own benefit but was protesting "out of principle, without self-righteousness, completely confident that I am doing the only thing I can under the undemocratic circumstances we face".
After the case, Bethan Williams, chair of Cymdeithas, said the group was asking people to refuse to pay their TV licence in his support.
"If the government doesn't listen to the united voice of people in Wales - who oppose the savage cuts which put S4C's future in doubt - more and more of our young people will face prison," she said.
"That's the result of the ill-considered decision of the Westminster government to make a 94% cut in their grant to the channel."