Police in Cardiff seek handbag, jewellery thief cyclist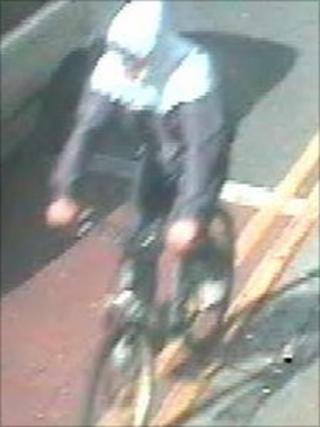 Police are keen to trace a cyclist who has been trying to steal handbags and jewellery from women in Cardiff.
He has been targeting different women throughout the summer in Roath, Cathays, and Canton.
Detectives have been trawling CCTV footage and have released an image in an attempt to find him.
The cyclist managed to grab the necklaces or handbags of women in all three areas, making off with some of their valuables.
The suspect is described as of mixed race or a dark complexion, unshaven, slim, in his late 20s or 30s.
He speaks with a foreign accent and on some occasions has been wearing a hooded jacket and sunglasses.
Police say all of the incidents remain under investigation.
They include:
03:00 BST Friday, 10 June, Cottrell Road, Cathays: mobile phone stolen
17:40 BST Saturday, 11 June, Gold Street, Roath: attempt to steal necklace
17:45 BST Saturday, 11 June, Piercefield Place, Roath: attempt to steal necklace
18:43 BST Saturday, 11 June, Cowbridge Road East, Canton: attempt to steal necklace
05:00 BST Sunday, 12 June, Hirwain Street, Cathays: handbag stolen
00:30 BST Monday, 13 June, near the junction of Clive Place and Croft Street, Roath: attempt to steal handbag
Anyone with information can contact Cathays CID on 029 2052 7267 or the independent charity Crimestoppers anonymously on 0800 555 111.