Bus operator Clayton Jones wins licence appeal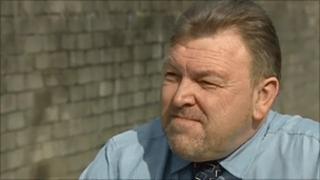 A south Wales bus operator has won an appeal against a decision by the traffic commissioner to withdraw his operator's licence.
But Clayton Jones will have to pay a fine of nearly £10,000, and the number of buses he operates is being reduced.
The traffic commissioner issued a report into Mr Jones's activities in April.
Mr Jones, of Heart of Wales and St David's Travel, said he was pleased with the outcome of the appeal.
Traffic commissioner Nick Jones found that Heart of Wales Bus no longer satisfied a requirement under the Public Passenger Vehicles Act 1981 to be of good repute.
His report said Clayton Jones's firm, which was allowed to operate 21 vehicles, had, without reasonable excuse, failed to operate one or more of its local services.
He also found timetable issues with 27% of services.
There was also an issue with his private hire licence.
Clash of personalities
The commissioner accepted Mr Jones did not deliberately fail to renew this licence, but he said he found "he was grossly negligent, indeed he was inept".
Mr Jones took the decision to appeal, which stopped his licence being revoked, and his buses have remained on the road.
Following an appeal hearing last month, a committee has ruled that the appeal should be allowed, and that the adverse findings in relation to the repute of the operator and transport manager of the company should be set aside.
Mr Jones is pleased, saying the problems, in the main, were down to a clash of personalities between him and the transport commissioner.
But there are some sanctions for Mr Jones.
The appeals process says the size of his fleet should be reduced, and the number of buses he can operate will fall from 21 vehicles to 12.
He has also been ordered to pay a fine of nearly £10,000 to the Welsh Government because of the lateness of the service.