Lynette White: Witness told of 'ace up our sleeves'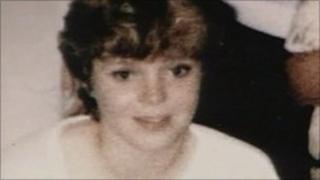 A detective investigating the murder of a Cardiff prostitute lied to a witness about the "ace up our sleeves" that would solve the case, a jury has heard.
Yusef Abdullahi's partner Jackie Harris said Rachel O'Brien, who is not on trial, claimed it was "categorical" his blood was on Lynette White's trousers.
Three men, including Mr Abdullahi, were wrongly jailed for the 1988 murder.
Eight ex-police officers deny conspiracy to pervert the course of justice. Two other people deny perjury.
Ms Harris told Swansea Crown Court that ex-detective constable Ms O'Brien's claims led her to tell a jury that Mr Abdullahi had once confessed to her that he was one of the killers.
She said he had been drunk and "stoned" at the time, so she had not initially believed him.
But after she was told of scientific tests, she believed he had indeed been involved and agreed to give evidence.
She said she had been so shocked that she may have vomited after reading that a scientist had told the jury trying five men that there was no forensic evidence linking Mr Abdullahi to Ms White's body.
Three of the five men - Mr Abdullahi, Stephen Miller and Tony Paris - were found guilty of the murder and jailed for life. They were released in 1992 after the Court of Appeal quashed the convictions.
Now eight former police officers involved in the 1988 investigation are on trial at Swansea Crown Court charged with conspiring to pervert the course of justice. They have all denied the charge.
Brandy and a machete
Ms Harris, the mother of two of Mr Abdullahi's children, said he had been a pig of a man who "pimped" three prostitutes and dealt in amphetamine and heroin.
He regularly assaulted her, the court heard, once when she was eight-and-a-half months pregnant, and attacked her with a bottle of brandy and a machete.
"I still have the scars today," she said.
She said that Mr Abdullahi both hated and feared the police. When they called making house-to-house inquiries, he hid in the attic.
She added that, after the death of Ms White, Mr Abdullahi had told her: "I'm glad she's dead. She deserved it. She grassed me out."
One morning, she said, he had arrived home at about eight in the morning, both drunk and stoned on drugs, and told her: "I did it. I did it. I killed Lynette White. That's on the kids' lives."
Ms Harris said the murder was featured on BBC's Crimewatch and Mr Abdullahi had said: "I could not stand the cow. They will never catch them."
Ms Harris said she had been young and naive and had considered Ms O'Brien to be a friend. Now, she said, she realised she had been "only doing her job".
She said she told the detective about Mr Abdullahi's "confession" and said she wanted him to go to jail but only if he had been truly responsible and not on the basis of her evidence alone.
She said she was reassured when Ms O'Brien told her about the "ace up our sleeves" and attended court.
The prosecution argued that former police officers "framed" the Cardiff Five by developing a theory about who was responsible for the death of Ms White and then "breaking" witnesses to confirm what they believed.
Ms White, aged 20, was stabbed more than 50 times in the early hours of 14 February, 1988, in a flat in James Street, Cardiff, which she used to entertain clients in.
In 2003 advances in DNA led police to Jeffrey Gafoor, who admitted murdering Ms White and was jailed for life. He said he had been alone and had never heard of or met any of the Cardiff Five.
The trial continues.