'Living Room' drugs and alcohol centre opens in Cardiff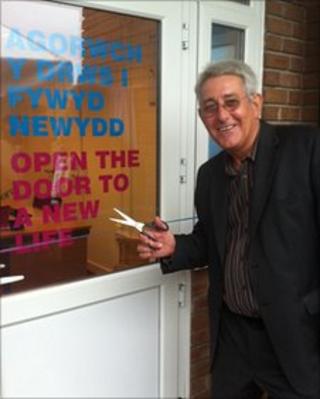 A new drugs charity is opening in Cardiff, offering rehabilitation based on "empowerment" of addicts.
The Living Room centre, set up by the Welsh Council on Alcohol and Other Drugs, offers support to anyone dependent on drugs or alcohol.
Chief executive Wynford Elis Owen said the recovery centre would offer a range of interventions.
"It builds on their strengths and assets, rather than focusing on weaknesses and deficits," he said.
He added it was vital to provide ongoing after-care support following treatment.
"Without this essential element, people are prone to relapse," he said.
American research
The centre's treatment model is influenced by Mr Owen's Winston Churchill Fellowship research trip to the eastern states of the USA last year.
He visited a number of new recovery centres that have achieved long-term results from alcohol and drug-related problems.
"It became apparent to me that the only effective way of helping these people was to put them in the driving seat and encourage them to take charge of their own recovery journeys," he said.
"We as practitioners were always in the driving seat of addiction treatment. Now, however, we must learn from the US model and take a back seat."
'Road to recovery'
Mr Owen, who was addicted to alcohol and drugs for 23 years, began his own recovery in 1992.
"When I began to recover and live my life without recourse to drugs and alcohol, it stood out to me that the facilities I needed at the time to make a successful recovery were lacking," he said.
"Sometime after I started on the road to recovery, I resolved to set up a recovery and day-care centre so that people, like me, who needed to abstain from drink and drugs, while confronting the burden of being human, could receive the support they needed on their doorstep here in Cardiff."
Carl Sargeant, Local Government and Communities Minister, said the Welsh Government had previously outlined its commitment to expand services available to help and support substance misusers through its 10-year substance misuse strategy.
He added: "The Living Room, Cardiff, provides recovering service users with opportunities to help rebuild their lives and to protect and support individuals from relapse after they leave structured treatment."