Blaenau Gwent council leader Des Hillman resigns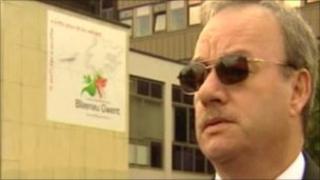 The leader of Blaenau Gwent council says he has resigned because of "skulduggery" and "dirty politics" in the authority's ruling group.
Des Hillman will stand down as leader from Monday after weeks of wrangling.
Over the summer the Welsh government appointed commissioners to oversee education services in Blaenau Gwent and launched an inquiry into the running of the council.
Councillors will meet next Friday to consider Mr Hillman's successor.
Mr Hillman, an independent councillor representing the Blaina ward, told BBC Wales there had been "skulduggery" and "dirty politics" in his own group of councillors.
Six weeks ago he and his deputy narrowly survived a no-confidence vote but since then he has faced pressure from the Labour group on the local authority as well as his own group of independents.
He said he was leaving the post with a "heavy heart".
In a statement, he said: "That's all I ever wanted to do is work hard for Blaenau Gwent. I've not had a proper holiday in the three-and-a-half years I've been leader. I've given 100% to the job."
A council spokesperson said: "The leader of Blaenau Gwent council has today announced his resignation, effective Monday, 10 October at 5pm.
"Council has agreed to meet on Friday 14 October to consider the future political management arrangements."
'Management failures'
The council has been in the headlines after it lost responsibility for running its education services.
A report found "systemic" management failures.
Education Minister Leighton Andrews has appointed two commissioners with a brief to improve standards in the county's schools.
A Welsh government spokesperson said: "Councillor Hillman's resignation is a matter for him and it is equally for other councillors to elect a new leader.
"We hope that stable and constructive leadership of the council can be restored as soon as possible."