Cardiff security company Sea Marshals takes on pirates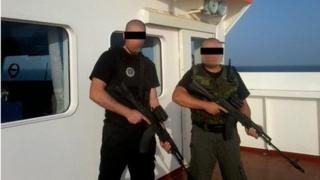 Taking on the threat of Somali pirates is proving to be good business for a company based in Cardiff Bay.
Sea Marshals employs 50 armed security officers but says it could probably double in size.
It provides protection teams for vessels in the Gulf of Aden, the Indian Ocean and the Malacca Straits.
Last month Prime Minister David Cameron backed the use of armed guards on British-registered ships passing through dangerous waters.
The company's Cardiff control room has a bank of screens tracking vessels thousands of miles away.
The security officers , many of them former special forces troops, on client ships are armed with automatic weapons like AK-47's, sniper rifles and handguns.
Sister company, Naval Guards, has a fleet of six fast patrol craft and a former minesweeper bought from the Swedish navy.
They operate out of the ports of Djibouti and Galle, Sri Lanka and are developing new bases in Oman and Durban, South Africa.
Figures from the UN's International Maritime Organisation (IMO) show 489 incidents of piracy and armed robbery against shipping in 2010, up more than 20% on the previous year.
The IMO is now introducing guidelines on the use of armed security and interim recommendations were published in September.
'Warning shots'
No ship carrying armed security is thought to have been hijacked in modern times.
"Just showing our weapons is usually enough," said chief of operations Thomas, who uses only his first name for security reasons.
"Normally, when we show our weapons, or when we shoot warning shots at them, 99% of the time that will solve the situation and the pirates will look for an easier target."
According to Thomas, nearly all of the company's security guards are British and are either former Royal Navy or special forces personnel.
The company says it is fully licensed to carry firearms in the areas it operates.
The chief of operations said the pirates select their targets with care.
"It may seem mad for them to come out in small skiffs, in bad waters but they're not completely mad - they don't want to die. They are there to make money. They want to grab a ship, take it back to Somalia and ask for a couple of million dollars in ransom," said Thomas.
'Desperate'
"The problem is a lot worse than ever before but they haven't been that successful this year in actually taking vessels. That's due to the fact that more ship owners are employing armed guards - which removes the threat from the pirates".
"The pirates are getting more desperate and are trying new things," he added.
"Recently, six pirate skiffs attacked a vessel with our security team onboard. It's a tough job for one security team to fight off six skiffs when they're attacking - but it worked," said Thomas.
The security teams stay in contact with the headquarters using satellite phones. Kelly, the operations administrator, spent 10 years serving in the Royal Navy before returning to her native south Wales, and she admits she finds the work addictive.
"We start with a client coming to us, asking for a team for their vessel. Organising a three, four, five man team, deciding what weapons we can carry on there. Ammunition. We've got to do everything from scratch".
Flag states
Kelly said she was now quite used to taking telephone calls "at three, even four o'clock in the morning".
"We have to advise our agents in the different ports. We're obviously in contact with our guys all the time. This is where you're going, that's what's required. They're all very well-trained and all qualified," said Kelly.
Although armed security now has backing from many flag states, including Britain, there have been a few critical voices.
The International Maritime Bureau (IMB), a maritime business body, has warned that pirates could respond with greater violence.
Naval forces from EU states have been protecting shipping off the Horn of Africa since 2008 in a mission known as EU NAVFOR, which follows UN Security Council resolutions.
But Sea Marshals claim the naval task forces is limited by its area of operation.
"You can compare it to putting 10 police cars in the whole of Europe that can do a maximum of 20 miles per hour and then trying to police the continent," said Thomas.
"Armed security on the ships is the only real solution," he added.
The company is recruiting more staff for its Cardiff HQ and is looking for larger office space in the city.
It is also planning to expand to west Africa as the threat of piracy grows in waters off Nigeria and Benin.