Wales Millennium Centre hosts 'Mega Messiah' for 1,000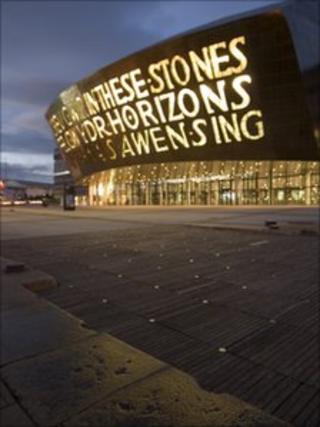 It has been called the "Mega Messiah", a performance of Handel's classic work from 1741, featuring about 1,000 voices.
The charity event took place at the Wales Millennium Centre in Cardiff on Sunday and it is hoped it will be staged annually.
The idea has worked successfully at London's Royal Albert Hall, but this is the first time it has been staged on this scale in Wales.
The public made up the huge choir.
Organisers said it gave people with an interest in singing the opportunity to rehearse and perform one of the world's most famous oratorios.
Production manager Viv Goldberg said beforehand: "The Messiah has been done in scratch performances like this for many years, it's very popular.
"There's a very big one every year in London at the Albert Hall and people just come and sing on the night and they just do it year after year.
"So we thought it was time we had one here in Wales."
Ms Goldberg said: "It's not easy music and you need to be able to follow it in the score.
"Choirs do rehearse it for performances and we're just doing it in one day.
"The whole idea is that people get together and have a really good time singing it."
Soloists
The performers were led by choral conductor David Lawrence who said: "I have conducted many 'from scratch' Messiahs, and am thrilled to have been asked to lead this extraordinary performance of Handel's greatest oratorio in the 'land of song'.
It is the first time the work has been performed at the Wales Millennium Centre.
The orchestra and soloists were from the Royal Welsh College of Music and Drama in Cardiff.
Handel's Messiah is one of the UK's favourite choral works, and was written in 1741 in London.
The composer was born in Germany, but spent most of his adult life in London.
The Mega Messiah performance is taking place in Cardiff at 18:00 GMT on Sunday.