Tributes to heart-lung transplant woman Julie Bennett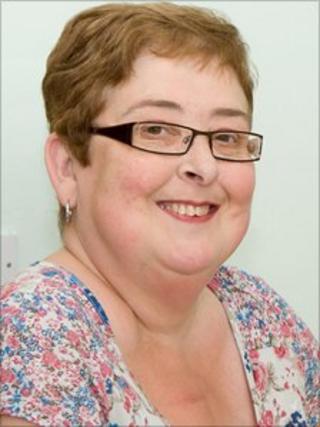 Tributes have been paid following the death of a woman from Monmouthshire who survived 26 years after a life-saving heart-lung transplant.
Julie Bennett, 46, from Chepstow, was diagnosed with cancer and died at the University Hospital of Wales, Cardiff.
She was the first cystic fibrosis patient to have a heart-lung transplant at Papworth Hospital, Cambridgeshire.
Celia Hyde, part of Ms Bennett's transplant team in 1985, said she had become "like one of the family".
Ms Bennett returned to the hospital in October 2010 to mark the 25th anniversary of her operation.
Speaking at the time, she said she was surprised to be given the surgery as she feared doctors thought she was dying.
"I never dreamt that I would be here 25 years later eating cake with my surgeon John Wallwork," she said.
She added: "I was extremely ill in hospital, and when the doctors asked to see my mother I thought it was to tell her that I was going to die.
"Instead I was offered the chance of being assessed for transplantation.
"Since my transplant I have returned to Papworth Hospital for regular check-ups and it is just like one big happy family."
Pioneering surgery
Prof Wallwork, who carried out the first successful heart-lung transplant in Europe in 1984, said Miss Bennett had been "extremely sick".
Speaking in 2010, he said: "Before her transplant Julie was extremely sick, weighed just five-and-a-half stone and her only chance of survival was a heart-lung transplant.
"The transplant on 10 October 1985 was ground-breaking surgery."
Ms Hyde, now modern matron for transplant services at Papworth, paid tribute to one of their longest-surviving patients.
"I would like to offer our condolences to Julie's family on their sad loss from everyone at Papworth Hospital," she said.
"Julie became like one of the family over the years and as one of the first heart-lung transplant recipients she was inspirational and gave hope and encouragement to future patients.
"We will miss her."