New Rumney plan part of £150m Cardiff schools programme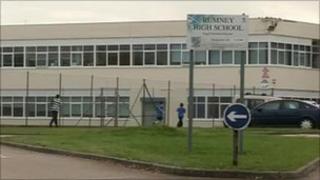 New proposals to replace Rumney and Llanrumney High schools in the east of Cardiff have been unveiled by the city's council.
It wants to redevelop the Rumney High School site to accommodate pupils from both schools.
It follows the shelving of a controversial plan to build a £22m new school on a local recreation ground.
Cardiff Council's new proposal is contained in a £150m city-wide scaled down bid for Welsh government funding.
The council admits it has had to look again at its original plans because of cutbacks.
The new plan would also see a new Welsh language primary school open in Grangetown and a new English language school in Pontprennau with investment in other sites.
It is also pressing ahead with plans to build a new £9.8m school on land in Sanatorium Road, Canton, to replace Tan yr Eos school and Ysgol Treganna.
The authority has dropped plans to close Pen Y Bryn School and an expansion of Ysgol Pwll Coch.
The new Eastern High secondary school at Rumney was opposed by campaigners, who organised an 8,000-name petition.
They were against a new 1,500-pupil school for 11 to 16-year-olds being built on Rumney Recreation Ground before the council said it would look at other options in September.
The council said it had revised plans after the Welsh government announced earlier this year investment in its schools building programme was being reduced.
When Cardiff made its original submission for money in December last year it was based on the expectation the Welsh government would fund 70% of the programme.
But councils have now been told they will have to directly match any investment.
Cardiff said if successful its programme would see £150m capital investment in schools in the city.
Executive board member for education Freda Salway said on Wednesday: "We have to look again at our future school reorganisation plans in light of the fact that the funds we thought were going to be available from the Welsh government will be reduced.
"As a result, our bid to the Welsh government concentrates on ensuring there are sufficient places in schools across the city to meet current and future demand.
"However, while we have had to re-evaluate individual proposals, our long-term goal of creating a successful, viable education system for Cardiff remains unchanged."