£1.9m lottery boost for Cyfarthfa Park in Merthyr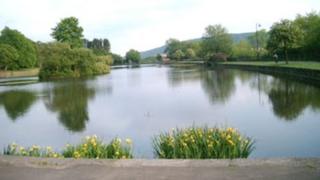 An historic park in Merthyr Tydfil will be revitalised with almost £2m of lottery money.
The 65-acre Cyfarthfa Park overlooking the town will be redeveloped and given improved visitor facilities.
Its bandstand, walled garden and glasshouses will be repaired, and the bowls pavilion rebuilt.
The £1.96m is from the Heritage Lottery Fund in Wales, whose chair, Dan Clayton Jones, said the landscape would be returned to its former glory.
The park is home to Cyfarthfa Castle, which used to be home to the Crawshay family, and is described as "the best example of a 19th Century ironmaster's residence to have survived in south Wales".
Merthyr council, which will carry out the work, plans to develop the park as a tourist attraction.
Some of the money will go towards employing such officials as a heritage officer and warden, and an apprentice programme will allow local people to train in skills including stone wall building.
Mr Clayton Jones said: "This park, which now belongs to the people of Merthyr Tydfil, is a reminder of the great wealth amassed by the iron trade aristocracy of south Wales and the role Merthyr Tydfil played in the industrial revolution.
"The funding will return the historic landscape of the park to its former glory while making it a fantastic green space for local people to enjoy, explore and learn from.
"It is great to see so many opportunities being made available for local people to learn traditional and horticultural skills, and in doing so play their part in taking our heritage into the future."
Merthyr councillor Derek Games called it "fantastic news" which would "celebrate the park's role in Merthyr Tydfil's industrial past and enhance investment to ensure that the park meets visitor expectations and national standards".
The Crawshay family ran the Cyfarthfa ironworks which became the largest and most successful ironworks in the world.
They supplied cannons to Nelson's fleet and later iron rails for railways across the world.
The plant prospered under the family until the iron industry was superseded by steel and it closed in 1874.
It later reopened as a steel plant before closing for the last time in 1919.