Torfaen seeks to suspend Fairwater High governing body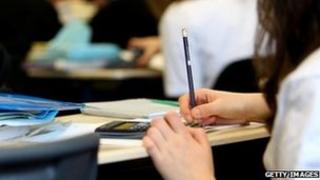 A council wants to suspend the governing body of a school where it says standards are unacceptably low.
Torfaen council is to ask Education Minister Leighton Andrews if it can set up an interim executive board (IEB) at Fairwater High School, Cwmbran.
Chief education officer Mark Provis said the governors had shown they "cannot sustain an effective drive for improvement" at the secondary school.
Headteacher David Marshall said the governors would "respond robustly".
Torfaen said Fairwater High has poor literacy levels, attendance and behaviour.
The school was recently graded Band 4 by the Welsh government under its new system, with Band 1 the best and Band 5 the worst.
'Critical issues'
The assessment of the school's performance in the academic year 2010-11 found 33% of pupils, the lowest in the county, achieved five GCSEs passes, including English or Welsh and mathematics.
If the minister agrees, the IEB will replace the governing body and take over responsibility for its budget, curriculum and staffing.
Mr Provis said: "I am extremely disappointed to have to put forward such an unprecedented proposal.
"However, the governing body has demonstrated that it cannot sustain an effective drive for improvement.
"We have had significant concerns about the performance of Fairwater High School for some time and have worked extensively with the school to increase educational achievement by pupils and address a range of critical school issues.
'Uneven and inconsistent'
"The proposal to seek the establishment of an IEB is the logical next step in working to secure better outcomes for leaner, effective leadership for teachers and other staff, and offer confidence to parents in the education on offer to their children.
"There is currently some excellent teaching at the school, but it is uneven and inconsistent and this needs to be addressed."
He said other unacceptable low standards at the school included its funding and finance and the size of sixth form classes.
The school's governing body was issued with a warning notice in September.
Mr Provis added: "While there have been improvements, significant concerns about a number of areas of the school's performance remain."
Mr Marshall said: "The governing body of Fairwater High School is awaiting the chief education officer's application to the minister.
"The governors will study this with interest and intend to respond robustly."