Celtic Manor resort hotel evacuated after small fire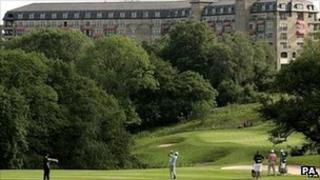 More than 800 guests were evacuated from the Celtic Manor resort hotel in Newport after a fire during the early hours of New Year's Day.
Firefighters were called to the 2010 Ryder Cup venue at 04:23 GMT on Monday.
A spokesman for the hotel said the cause of the fire was being investigated and apologised to guests who spent about 40 minutes outside.
The South Wales Fire and Rescue Service said a small fire on the ninth floor was confined to a laundry room.
It said nobody was injured, adding that the fire was accidental and not suspicious in any way.
A spokesman for the Celtic Manor resort said: "A small fire was located and extinguished within minutes.
"The cause of the fire is unknown at present time but a full investigation will take place to identify the cause.
"The resort apologises to residents for the disturbance but their safety has to be paramount concern in the resort's fire alarm procedures."