Blind football: Cardiff City Community Foundation begin sessions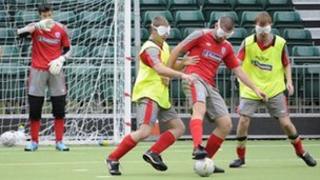 Football sessions for visually impaired players have begun as part of Cardiff City's Community Foundation programme.
The introduction completes the club's disability programme, which has been praised by a trust overseeing disabled football at 47 clubs.
The foundation now claims to have one of the most comprehensive schemes in the UK for disabled players.
Organisers hope soon to be able to play against local rivals Swansea City, and then enter leagues.
The sessions are for children, adults with different degrees of sight issues.
Monday's official launch follows the 100-day countdown to the 2012 Paralympics.
Cardiff already runs coaching for children and adults with physical disabilities, deafness and hearing impairment, Down's syndrome, learning disabilities and those in wheelchairs.
Cardiff City Community Trust disability project manager Rob Franklin said: "We're casting the net wide, and inviting along anyone with any degree of visual impairment (VI) from age five upwards.
"Competitive VI football is broken up into four sight categories, ranging from B1 people who are totally blind, to B4, who'd be able to see players, if not the ball, at the other end of the pitch."
"But initially at least we'll be running the coaching sessions alongside each other, until we get a better idea of players' sight level and ability."
"Swansea City already have a VI team, and our first task is to recruit enough players to be able to arrange matches against them over the next few months.
"After that, if the interest and numbers are there, we can look at entering Cardiff City teams in the various VI football leagues."
'Goodwill and effort'
"But it's important to stress that these sessions aren't just for people who want to play serious, competitive football. Disability sport can also be an important means of improving mobility and self-confidence, or simply a fun way of keeping fit."
The club's disability football is run by its community trust under the umbrella of the Every Player Counts scheme funded and administered by the Football League Trust (FLT), which covers 47 league clubs in England and Wales.
Mike Evans, general manager of the FLT, considers Cardiff's programme to be in the top 10 of all disability provision across the league.
Every Player Counts was established three years ago and in that time has worked with around 40,000 disabled people, 12,000 of those regular players, at a cost of £4.6m.
Mr Evans said the three-year funding cycle was coming to an end and they were actively searching for new sponsors or supporters.
He explained that clubs did not directly put money into the teams and training but instead provided facilities and support through player or coaching staff participation, although the community trusts at club level also employ people through the money they raise themselves.
Cardiff's trust raises around £20,000 through charitable giving which the council then match funds.
Mr Evans was keen to stress the unpaid work that keeps the scheme afloat.
He said: "A lot of it is support by volunteers. We have 1,300 volunteers across 47 clubs. There's a lot of goodwill and effort that goes in on people's behalf."
The sessions are suitable for for blind and visually impaired children over five and adults and will be held every Monday at Fitzalan High School indoor sports hall from 18:00 - 19:00 BST.
Anyone who wants further information can contact Rob Franklin on 07580 434534 or email disability.football@cardiffcityfc.co.uk