Pontypool Free Press offered Torfaen council office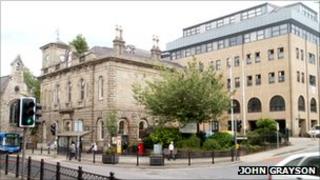 A council is providing a weekly newspaper with an office one day a week after it closed its base in a town.
The Free Press had been based in Pontypool for 150 years until Newsquest shut the office in November, moving staff to its regional base in Newport.
Torfaen council says it wants the paper to retain a presence in Pontypool so is providing a room in the civic centre.
Newsquest said while its reporters had remained active in Pontypool the office provided another point of contact.
The company, which also publishes the South Wales Argus daily paper, closed its offices in Pontypool and Chepstow as it restructured its editorial and advertising departments.
Now the papers reporters are using an office in the civic centre in Pontypool every Friday free of charge.
Welcome gesture
Torfaen council leader Bob Wellington said: "A vibrant local paper is important as it can play a key role in providing a forum for residents to make their voices heard."
Newsquest East Wales and Gloucestershire publisher Kevin Ward said they company welcomed the council's offer.
"Our decision to close our Pontypool office was not taken lightly," he said.
"Although our reporters and photographers remain active in the town and it is easy to get in touch with them in a variety of ways, this gesture by the council allows gives our readers another point of contact.
"The Free Press remains committed to Pontypool and the surrounding area, as it has been throughout its proud history."