Neighbour Sarah Voisey 'tried to wake' Nikitta Grender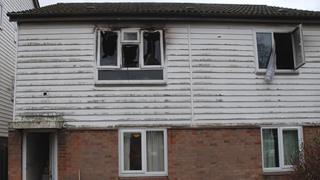 The neighbour of a pregnant teenager stabbed to death before her flat was set on fire "frantically" tried to awaken her, a murder trial has heard.
Nikitta Grender, 19, died last February two weeks before she was due to give birth to a baby girl.
Sarah Voisey told Newport Crown Court she knocked on Ms Grender's flat door for 10 minutes after realising there was a fire inside.
Carl Whant, 27, denies murder, rape, arson and child destruction.
Ms Grender's body was found by firefighters in the flat at Broadmead Park, Lliswerry, at around 08:00 GMT on 5 February 2011, the court heard.
A post-mortem examination later revealed she had been stabbed twice, once in the neck and once in the stomach, before her flat was set on fire.
Ms Voisey, who lived in the flat below Ms Grender and her partner, Ryan Mayes, told the court she had hardly slept that night because her then five-month-old daughter had been teething.
Beeping noise
Giving evidence via a video link, she told the jury she had been awoken by a constant, but faint, beeping sound at around 05:30 GMT.
At first, she said, she thought the sound had come from her own flat, but after searching and finding nothing she returned to bed.
Around an hour later she awoke again to make her daughter a bottle, and realised the beeping noise was coming from the flat above.
However she assumed her neighbours "would deal with it".
It was only when her own smoke alarm started to sound at 07:50 that she realised Ms Grender's flat was on fire.
"My flat was getting really hot and stuffy and I kept hearing this beeping sound," said Ms Voisey.
"I phoned the fire brigade who told me to leave and try to knock my neighbours' door.
"When I got outside I could see smoke coming out of the window [from the flat above]. I began frantically knocking on the door, but got no answer.
"I kept banging the door for about 10 minutes - my knuckles were red and sore."
Ms Voisey said she thought she saw firefighters try the door handle before breaking the front door down.
Cross-examined by defending barrister Christopher Kinch, Ms Voisey said she did not go to sleep until 04:00 that night.
Fire alarm
The sound insulation was poor, she added, and the previous evening she had heard footsteps from above.
"I could not tell you whether those footsteps were male or female," she said.
When asked by Mr Kinch whether she had heard any noises apart from the fire alarm in the early hours of that morning, she replied "no".
Michael Flanagan, head of South Wales fire service's fire investigations, was at the scene of the blaze within an hour.
He said he was convinced the fire had been started on Ms Grender's bed "and radiated out".
"For a fire such as this to have taken, in my view, would have taken a sustained flame [from a lighter]," he said.
The court had previously heard that Mr Whant, Mr Mayes's second cousin, left a party in Newport to rape and murder Ms Grender before dawn.
However Mr Whant, of Bettws, Newport, has claimed he had consensual sex with her hours before she died after being invited by Mr Mayes to join them in bed.