Volunteering in Africa 'boosts self-esteem' of Cardiff youth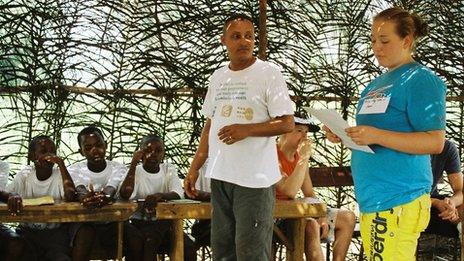 A project to give disadvantaged young people in Cardiff a chance to volunteer in Africa has been hailed as a success.
Ten youngsters from Cardiff spent two weeks in Sierra Leone with local children leading workshops on sexual health, nutrition, skills and football.
Organisers aim to boost the self-esteem and skills of so-called Neets - young people not in full-time education, employment or training.
Wales footballer Craig Bellamy's charity was one of the trip supporters.
The scheme will now be run annually to offer volunteering chances to others.
The overseas trip was run by the SAFE Foundation, an international development charity based in Cardiff, in partnership with Communities First.
It offered disadvantaged young people aged 16 to 24 the opportunity to increase their understanding of global citizenship whilst helping some of the most deprived young people in the world.
The trip was also supported by the Craig Bellamy Foundation, the brainchild of the Liverpool and Wales footballer, which is based in Sierra Leone.
Football sessions were led by Peter Griffiths, who played alongside Bellamy in the Wales under 16s team.
More than half of the £27,000 budget was met by a GwirVol youth volunteering grant from the Wales Council for Voluntary Action (WCVA).
Project manager Hannah Fitt of Communities First said it was a means of boosting the aspirations of the youngsters involved.
"The number of Neet young people in East Cardiff has been a priority for some time and, having personal experience of the benefits of international volunteering, I thought this project would be an extremely positive way to engage some of the hardest-to-reach young people in Cardiff.
"Communities First is committed to supporting our volunteers in ways that will help increase their access to opportunities and prospects and this has been an experience that has exceeded all of our expectations.
"I am so proud to have worked alongside some of the most wonderful young people from Cardiff and Sierra Leone and am really excited to see what the future holds for them."
Lucy Dickenson, managing director of the SAFE Foundation, agreed that the project had been a great success and would now be run on an annual basis to give volunteering opportunities to other young people.
She said the plan for those who had returned from Sierra Leone was to build on their experiences and enthusiasm to help them find jobs or training.
"This project has been an amazing opportunity for young people in Cardiff who have suffered exclusion in the past to really engage with international issues and poverty responses," she said.
"It has also supported children and disadvantaged schools in Sierra Leone through the development of their education.
"New skills, new attitudes, new ideas and new opportunities have been created all round and so many lessons have been learned by everyone.
"The SAFE Foundation have been privileged to work alongside the participants of the project and we look forward to the future of the programme."
Liam O'Brien, 17, one of the young people involved, said: "This project was an amazing experience.
"For me it was an experience where I can now see how fortunate I am to other people."
Another volunteer, Jade Lownsbrough, 19, said she felt good to be a valued part of the team and gave her a new perspective on life.
"I think more wisely now about decisions I have to make for the future," she said.
"It's changed my aspirations and helped me think about what I want to do."
Related Internet Links
The BBC is not responsible for the content of external sites.