Monmouthshire and Brecon Canals: Bells celebrate anniversary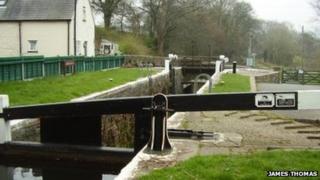 Celebrations have been held to mark the 200th anniversary of the opening of the Monmouthshire and Brecon Canals.
Enthusiasts recreated the original opening of the waterway in 1812 at Pontymoile Basin with church bells sounding along the route.
The 49-mile, canal built to transport coal and iron, winds its way south from Brecon to Cwmbran, Newport and Cwmcarn.
Today it is popular with tourists on canal boat holidays.
At midday a bell was rung at Pontymoile Basin sparking a peal of church bells in both directions along the route with almost 30 churches taking part.
Richard Dommett, regeneration manager for the Monmouthshire, Brecon and Abergavenny Canals Trust, said the canal was flourishing.
"The top half of the canal from Brecon to Cwmbran is open for navigation," he told BBC Radio Wales.
"There are a lot of canal companies that hire weekly holiday trips for visitors.
"There are also a number of day boat hires, particularly at Brecon."
The canal is credited with kick-starting the Industrial Revolution in towns near its route.
Schoolchildren also performed at the anniversary celebrations.
Project Co-ordinator David Morgan said: "It is fantastic to see such great community engagement and involvement to help mark this historic occasion," David said.