Motorcare warranties firm collapse leaves customers out of pocket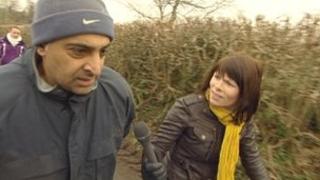 Financial regulators are investigating the collapse of a car warranties firm which they say has left some customers with worthless policies.
A BBC Wales investigation found some policies sold by Motorcare Elite (2008) were not backed by underwriters.
The Llantwit Major-based firm was set up by Harby Panesar, who appeared on TV when he spent a reported £20,000 on his daughter's birthday party.
Now bankrupt, he insists the policies were properly underwritten.
The BBC Wales consumer affairs programme X-Ray found that Motorcare Elite (2008) sold car breakdown warranties to car dealers who sold them on to consumers.
The company said they were backed by insurance underwriters, but after the firm collapsed it emerged that some policies were not backed by insurance and were worthless.
'No trace'
The Financial Services Authority (FSA) has issued a statement saying: "If you were a customer of motor breakdown insurance firm Motorcare Elite, there is the possibility you were sold a policy which has now turned out to be worthless.
"Information we have seen suggests that when Motorcare sold some policies to customers, it may have failed to properly register their details and premiums."
A three-month investigation by X-Ray found that the company appeared to have made up the names of insurance underwriters.
Some policies were backed by a company called Marine and General Insurance Company Ltd at an address in the city of London.
But researchers for the programme could find no trace of the company.
Mr Panesar now says the company is based in Kazakhstan.
Adrian Reynolds from Cwmcarn was a victim of the collapse of Motorcare, having bought a £700 life-of-ownership policy for a Nissan pick-up truck bought at auction.
When Mr Reynolds tried to claim for repairs costing more than £1,200 he found underwriters Alpha Insurance had no record of the policy he had paid for.
They said they had never underwritten life-of-ownership policies.
His wife Beverley said: "We are furious thinking that we have not got something that we have paid for and worked hard for."
Another customer, Andrew Rafferty, from Hirwaun, Rhondda Cynon Taf, said he faced long delays when he claimed on his warranty in January 2011.
'Marked as paid'
When the company collapsed in March he was told that Motorcare records showed his claim had already been paid.
Mr Rafferty told X-Ray: "It makes me very angry to think there are people like him (Mr Panesar) out there taking money from working-class people who have worked for this money."
Alpha Insurance said it had evidence that "Motorcare administered claims which, whilst marked as paid in their recovered records, are stated to be outstanding by claimants."
Motorcare is now in liquidation and Mr Panesar, a former prison officer, has been declared bankrupt.
He said he was unable to speak about the company's affairs because of the FSA investigation.
When confronted by the programme, Mr Panesar said now was "not the right time" to explain the issues raised by the programme, although he did say policies were properly underwritten.
Mr Panesar still lives in a luxury home in the Vale of Glamorgan which was featured in a satellite TV programme about his daughter in 2009.
She appeared in an episode of the MTV series My Super Sweet 16 UK, boasting about the family's wealth.
It featured the house on a six-acre estate, with stables and ponies costing as much as £20,000.
The family had a fleet of cars and was shown spending £1,300 on designers clothes in a shopping spree for their daughter, who was 14 at the time.
X-Ray is on BBC One Wales on Monday 13 February at 19:30 GMT