Jail for £96,000 benefit cheat Helen Ryan, who had £184,000 in savings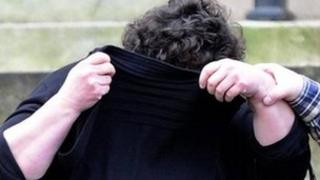 A mother-of-six has been jailed for claiming benefits when she had over £180,000 hidden in nine bank accounts.
Helen Ryan, 40, from Rumney, Cardiff, admitted seven charges of fraudulently claiming benefits after receiving more than £96,000 in benefits.
Her defence barrister told Cardiff Crown Court she was putting money away for her children when they grew up.
But Judge David Wynn Morgan jailed her for 24 weeks and said she should have declared the money.
The court was told that Ryan lived in a rented house with her three youngest children, aged 17, 13 and 10, while her partner Thomas Jack Jim Price lived in a caravan at a nearby travellers' site.
Ryan claimed £88,000 in income support and £8,000 of council tax benefits, but was not entitled to the money because she had more than £12,000 in savings.
Her bank statements showed that in 2003, two years after she began making fraudulent claims, she had £50,000 saved. At its height, it was £184,000, the court was told.
Ryan said the money was the proceeds of her brother's successful gambling on horses, but Department of Work and Pensions (DWP) checks showed her brother James was not known to bookmakers and racecourses.
Carl Harrison, prosecuting, said Ryan took "steps to conceal" her accounts from the DWP.
'Top-end case'
"This was a top-end case. She had a considerable amount of capital in her accounts and she wanted to hide it," he added.
"Ryan made false representations on benefit forms and during interviews to keep the authorities in the dark relating to her true economic circumstances."
Three secret bank accounts were in her name, with another six in her children's names, and she lied about where she was living to open accounts with the HSBC and the Principality.
Peter Davies, defending, said: "In the travelling community value is put in saving money for the children.
"This is a simple case of a parent putting money aside for when the children are older."
Mr Davies said the money in the children's accounts was "consistent" with someone who had saved over a long period.
While she was was from a traveller background, she now lived at a fixed address, he added.
Mr Davies said the wrongly claimed money had been fully paid back.
"It would perhaps be fair to describe these amounts as eye-watering, but there were relatively few withdrawals made and my client or her family have not lived a lavish lifestyle.
"She seems to be living a very simple and ordinary life."
Judge David Wynn Morgan said: "Over a 10-year period £96,479 was dishonestly obtained from the taxpayer."
The judge said wherever the money came from it should have been declared.
DWP Minister for Welfare Reform Lord Freud said after the case: "Benefit thieves are costing the taxpayer almost £1billion per year.
"This money is intended to help those most in need not line the pockets of criminals."