Carling Cup helped save Cardiff City fan Leslie Hayes's life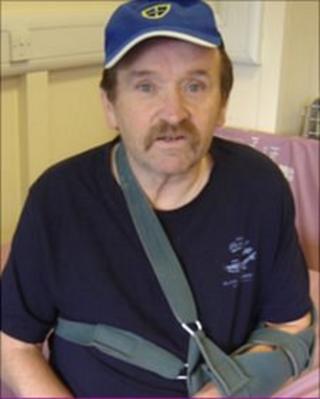 Cardiff City fan Leslie Hayes will take his seat at Wembley for the Carling Cup final knowing that the competition helped saved his life.
Mr Hayes, 59, from Newport, collapsed at home back in August and spent six days on his floor.
He was only found after Cardiff fans raised the alarm with police when he failed to show up for the Carling Cup first round game at Oxford.
Mr Hayes said a City win over Liverpool on Sunday would feel like fate.
The Bluebirds lifting the trophy could just be written in the stars, but he is expecting a very tough game.
"Watching Liverpool against Brighton [on Sunday], I'm frightened!" he said.
"But I'm more interested in the league - it's Premier League football we want.
"I would like to win and get back into Europe but I'm happy to go up there for the day and have a good day out."
Broken shoulders
It could all have turned out very differently for Mr Hayes, a Cardiff fan for 40 years who rarely misses a game home or away, following his collapse.
When he failed to show for the match at Oxford on 10 August, his fellow fans became worried and contacted police.
Officers called at his house at one stage but there was no answer.
However, his friends were so worried they contacted police again and officers gained entry this time.
If it had not been for his friends' actions, he said he would have died.
He had broken both shoulders in the fall and was too weak to get up.
"I was on the floor and I just couldn't get up," he said.
"I wasn't hungry, I was more thirsty.
"When they picked me up on the Saturday and got me into hospital, all I said to the policeman was 'get me some water'."
Mr Hayes, a retired steelworker, spent six weeks recovering at the Royal Gwent Hospital in Newport.
He was released from hospital at the end of August but did not initially feel well enough to go to watch his beloved Bluebirds.
"I wasn't ready to go to football," he said.
"When I came out I just wanted to relax in my house."
But he returned to Cardiff City Stadium on 15 October for a Championship match against Ipswich and has not missed a game home or away since.
He has been having physiotherapy and was hoping to be given a completely clean bill of health this week.
While not certain what caused his collapse, he said he was feeling "back to normal".
Mr Hayes said he would be taking his place at Wembley alongside the fans who helped save his life, Steve Perry and Roger Nowell.