South Wales Police recruit over 200 PCSOs, but cut front desk staff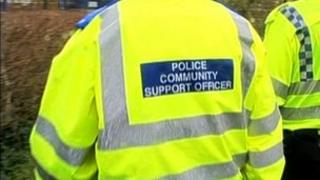 More than 200 new police community support officers (PCSOs) will be recruited by South Wales Police at a time when front desk staff face cuts.
Deputy chief constable Colette Paul says civilian jobs could go when station inquiry posts are cut later this year.
She hoped redundancies would be voluntary with some redeployment.
Eight main stations will open longer, mobile police stations will be brought in and crimes can be reported online.
It is part of a scheme called the Accessibility Strategy, which is being launched for consultation by the force on Wednesday.
Ms Paul said it was designed to serve the needs of the public better.
The PCSOs will be funded by the Welsh government.
Ms Paul said they play a "valuable and vital role" in providing face-to-face contact with the public, while mobile policing units allowed people to speak to officers directly.
Ms Paul said the plan was to "refocus our efforts" on the front line after figures showed the number of people visiting front desks over the last few years had dropped.
She said most people contacted police by phone, while many of the large number of buildings were in a bad state of repair and no longer seen as fit for modern policing.
The force has not yet provided details on how many front desks and staff will be affected.
Ms Paul said: "We will try to redeploy or ensure voluntary redundancy for these staff."
Stations that will remain open between 16 and 24 hours a day are at Bridgend, Barry, Cardiff Bay, Cardiff Central, Merthyr, Neath, Pontypridd, and Swansea Central.
'More convenient'
From April, a one-stop shop call centre will open where staff will take emergency and non-emergency calls and attempt to immediately deal with a caller's problem.
The public will be able to report non-emergency crimes and keep track of the investigation online.
Richard Jones from the Police Federation in south Wales "welcomed any use of IT that frees up police officers".
Ms Paul wanted to "make it more convenient" for the public to contact the police.
She added: "Times are changing and so are our communities and the way we police them.
"Fewer people now pop in to a police station to speak to an officer in person. The telephone, especially the mobile phone, the internet and email, are becoming increasingly important ways to get in touch.
"We need to adapt to that accordingly."
Staff are being informed about the developments, and a final decision on the proposals will be made later this year.