Julian Emms guilty of stealing son Michael's motor neurone disease funds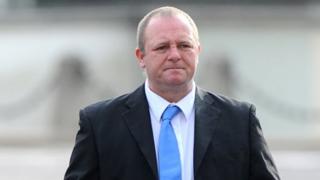 A businessman has been found guilty of stealing £16,500 from a fund for his dying son.
Julian Emms, 46, cashed a blank cheque from the trust set up to aid his son Michael's battle with motor neurone disease, Cardiff Crown Court heard.
When his son died in his early 20s, the court heard that just £1,300 remained of the trust fund. Emms denied fraud.
Emms, from Caerwent, Monmouthshire, was given bail but told he will receive a custodial term when sentenced in March.
Meirion Davies, prosecuting, described his actions as "despicable".
"A lot of work by a lot of good people had helped put money in that fund," he told the jury.
"What sort of man would trick his own son out of that money and use it for his own purposes?
"It was despicable - someone who could do something like that is beneath contempt."
The court heard how he had persuaded his son's grandmother, Anne Brandon, to hand over a cheque from the trust fund.
Holiday trip
"Emms said he was booking a holiday to the USA for Michael and needed two cheques," said Mr Davies.
"One was for £3,000 for the holiday and the other was £300 for insurance.
The cheques were given to Emms unsigned, and he later altered one of them to withdraw the £16,500.
The prosecutor added: "Police searched his home for the money but Emms told them: 'It is not here - I spent it'."
"He had carried out a cold-blooded and deliberate deception, then lied to extricate himself from a deeper and deeper hole."
The trust fund was originally set up to help fund stem cell treatment for Michael Emms when he was diagnosed with motor neurone disease when in his teens.
The fund was swelled with donations from well-wishers, reaching £55,000, and the medical treatment failed to halt the advance of the disease.
He died in April 2011, aged 24.
Business debt
Emms's former mother-in-law Mrs Brandon told the court she discovered the money had been taken from her grandson's account.
She said: "I went to the bank to check the position of the account and found £16,500 had gone.
"Lots of people had been involved [in fund-raising]. I was devastated."
Mrs Brandon said there was not enough money left to pay for Michael's funeral when he died.
The jury heard that Emms had a £15,000 business debt when the fraud was carried out.
The judge, Recorder RA Britton warned him he would "get a custodial sentence - it is just a matter of how long".