Insole Court: community appeal to raise funds for restoration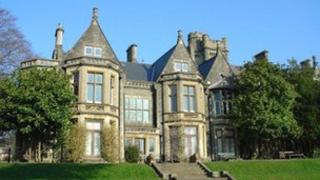 A community appeal is aiming to raise funds toward the £5m needed to restore a Victorian mansion in the suburbs of Cardiff.
The Insole Court Trust said it hoped to generate at least £10,000 through the appeal, which is launched on Saturday.
Campaigners want to demonstrate the enthusiasm of the local community for preserving and improving Insole Court, which was built in 1856.
They are also hoping to get £1.9m from the Heritage Lottery Fund (HLF).
The trust has already secured a development grant of £165,900 from HLF to prepare restoration plans.
The scheme includes office accommodation, workshops for small businesses, a cafe, centre for older people and a nursery.
The house is said to be one of the few surviving family homes related to Cardiff's Victorian coal era and has many original features to be preserved.
Extremely wealthy
It was built by James Harvey Insole, who owned Cymmer Colliery in the Rhondda.
The production of coal, sold through his offices at Cardiff Docks, made the Insole family extremely wealthy, and the house grew to fit the family's status in society.
The house and grounds were brought into public ownership in 1938 to enable the construction of Western Avenue, but the management of them has now transferred to the Insole Court Trust.
Insole Court is now a centre for community activities, run by Cardiff council.
The appeal for local contributions is being launched by the trust, the Friends of Insole Court, the Insole Estate Residents' Association and the Llandaff Society.