Cardiff City FC announce £12m loss in 2010/11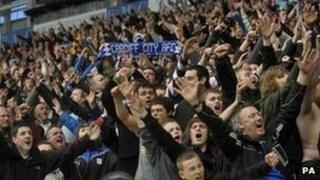 Cardiff City FC have announced a loss of £12m for the year ending 31 May 2011, up from a £922,000 loss the previous year.
The Bluebirds missed out on promotion to the Premier League last season, losing to Reading in the Championship play-off semi-final.
The club's turnover dropped from £16.9m to £15.9m on the previous year.
But profit on the disposal of fixed assets was the biggest difference down from £11.4m to £460,000 in 2010/11.
The club's annual report said the drop was mainly down to the sale of Ninian Park in September 2009 together with the sale of the hotel and House of Sports sites next to the stadium.
Cardiff's chief executive Alan Whitely said in the directors' report that the club achieved increases in season ticket, match day ticket, and hospitality sales while commercial and retail revenues were also up, despite not reaching the Premier League.
He warned further challenges lay ahead but said the club was in a much better financial position.
"The club continues to face the challenging financial environment presented by the Championship competition, as illustrated by the comparable operating loss year-on-year despite significant reductions in back-office costs, these gains being absorbed by increased direct football costs, whilst the club did not have the benefit of the one-off profits from asset disposals available in the year to May 2010 to bolster its final result for the financial year," he wrote.
'New investment'
"The end of May 2010 saw the club receive substantial new investment, principally from Malaysian businessmen, together with the restructuring of a number of new major creditors.
"Following this, the club was able to commence settlement of a number of its longstanding debts including its historic tax liability.
"The new investment has stabilised the club's position, allowing the club to work towards the delivery of a coherent and sustainable business strategy, as formulated by the new board and its management team."
He added: "In addition, whilst their funding is not guaranteed, the new investors have indicated that providing the business develops as planned, they will continue to support the club in the foreseeable future and provide additional finance in order that it can settle its liabilities."