Pot holes: Rhondda Cynon Taf council names road priorities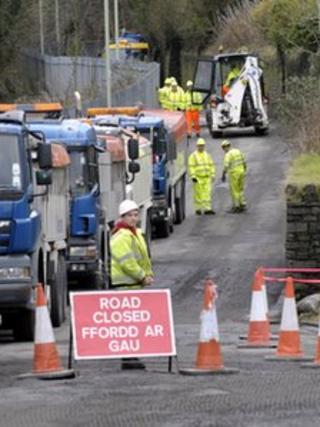 More than 200 roads and streets in the south Wales valleys are to be repaired in a council's £9m highways scheme.
Rhondda Cynon Taf council has confirmed the first 55 roads to be chosen for pot hole and surface repairs in 2012/13.
The authority spent £10m on repairs and resurfacing in 2011/12, improving more than 230 streets and filling over 40,000 pot holes.
BBC Wales revealed last year that Welsh councils faced a backlog of more than £200m in road repairs.
Priority areas
Local authorities throughout the UK have come under increased pressure to keep roads in good condition, with Rhondda Cynon Taf blaming a series of severe winters for its own problems.
The council said improvements under the first year of itshighways investment schemeincluded the Maerdy, Bwlch and Rhigos mountain roads, and in total covered 90 miles of carriageway.
Priorities for the coming yearinclude the A4059 Penywaun-Aberdare bypass, Baglan Street in Treherbert and Brynna Road in Brynna.
Coun Andrew Morgan, cabinet member for highways and transport, said roads across the county borough would be targeted.
"This announcement is only the first phase of works to be undertaken as part of the £9m to be invested in our highways this coming year," he said.
"Further phases will be announced as we progress with the resurfacing and footway works.
"Every ward in the county borough will benefit from this investment being made with well over 200 locations seeing substantial improvement works undertaken during 2012/13."
The majority of funding for the programme is coming from the council's own budget, with around £3.9m being made available via the Welsh government's prudent borrowing arrangement for local councils.
In addition to money for repairs, the Welsh government has also allocated funding for improvements and additional works on the A4059 and other roads across the county borough.
In May 2011 research by BBC Wales revealed a shortfall of £200m between what local councils planned and needed to spend on road repairs in 2011/12.
BBC Wales also discovered that local councils paid out more than £1.3m in compensation over four years for damage caused by pot holes and roads in poor repair.
The Institute of Advanced Motorists has warned that drivers in Wales faced worse problems than in England, where the Highways Agency was responsible for maintaining more of the major roads rather than cash-strapped councils.