Aberdare's £7.7m revamp offers pain and hope, say traders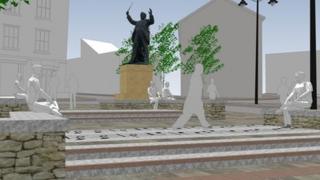 Traders say work on a £7.7m revamp of a Cynon Valley town centre is hitting their takings, but hope it will reap rewards in the future.
The regeneration of Aberdare is being described as the largest investment programme the town has ever seen.
The revamp, which involves major street and shop improvements, will attract new businesses and boost local pride, says Rhondda Cynon Taf council.
But six months on, some traders say the work is deterring people from the town.
Leanne Williams, manager of The Travel House travel agency on Victoria Square, said much of the area around her shop had been fenced off so it was difficult to attract passing trade.
"It's all been dug up now and, being a travel agent, it has affected us. People come in because of the deals we have in our windows," she said.
"They can't get past and look in our windows now. It will be good for the town but, at the moment, it isn't."
Robert Lapping, of family greengrocers Country Choice on Commercial Street, said takings were down a couple of hundred pounds each day.
"At the moment it's bad," he said. "All the street is dug up and the road is closed. People are not coming into town - it's really, really quiet.
Despite the upheaval, he is still hopeful it will all be worth it.
"At the end of the year, perhaps we will have an amazing Christmas. We've just got to struggle on and that's it," he said.
The council conceded there was inevitable disruption but said work was right on schedule.
Paul Cannon, the Rhondda Cynon Taf council cabinet member for economic development, said: "I certainly understand where they [the traders] are coming from.
"They've got businesses to run and every penny counts in the current climate.
"But you can't do this type of work without inconveniencing people. We've tried to work with them to alleviate as many of their problems as we can."
Disruption to trade
The improvements are focusing on four main areas - Commercial Street, Victoria Square, Canon Street and Library Square - with new footpaths, roads, lighting, benches, walls and steps.
There are also grants available for businesses to improve the look of their premises and bring unused space back into use.
Canon Street is "substantially completed", while many improvements have already been made in Victoria Square and Library Square.
Tim Reeves, a British Heart Foundation regional support manager who was visiting the charity's Aberdare shop in Commercial Street, said despite the short-term pain, the town needed to attract new businesses.
"The honest truth is that it's going to be good for the town and how it looks and the presentation of the town," he said.
It was important to give Aberdare a modern feel, he added.
"It's really good to see towns like Pontypridd, Aberdare, Merthyr - the work going on there - because it attracts people who wouldn't otherwise go there," he said.
Rhondda Cynon Taf council said these types of schemes offered hope for the future, encouraging private sector investment and boosting local pride.
"Aberdare was tired, it was old, dilapidated. It didn't hold much for the shopper - not much of a shopping experience," said Mr Cannon.
"Like Pontypridd and Ferndale, these are the three big projects [in Rhondda Cynon Taf]. Pontypridd is well under way and Ferndale is almost complete.
"Our valleys desperately need this."