London 2012: South Wales Police Olympic torch rehearsal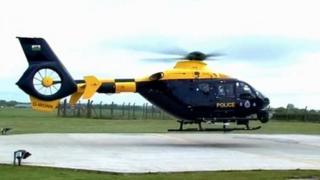 A police force has been rehearsing its role ahead of the arrival of the Olympic torch relay in Wales in May.
South Wales Police tested its communication and planning procedures by staging a 22-vehicle convoy and using its helicopter to feed live images to the force's command centre.
Working with the other three Welsh forces, South Wales Police will oversee the relay during its six-day stay.
Supt Steve Furnham said officers wanted to ensure a "safe and secure" event.
The Olympic torch will arrive at Monmouth on 25 May and leave on 30 May when it passes into England, heading for Chester.
More than 80 Welsh towns, villages and cities will see a glimpse of the torch during the relay.
Hundreds of runners are due to carry the torch during its tour of Wales.
Samantha Huntfrom Newport,Jill Edgefrom Fishguard,Ilid Robertsfrom Llandudno andJames Lustedfrom Colwyn Bay are among the torch bearers.
On its journey the torch will be accompanied by a team of officers from the Metropolitan Police.
Dry-runs
But South Wales Police said its assistant chief constable Julian Kirby would assume overall command of the police operation, which will involve a number of regional coordination centres.
Monday's test exercise began with practice dry-runs at RAF St Athan, said the force.
Then the convoy, which also involved 12 police motor cyclists, made its way across south Wales from Treorchy, Rhondda Cynon Taf, and Laleston, Bridgend, between 11:30 and 14:00 BST - on part of the route that the torch relay is scheduled to take.
"We are committed to delivering a safe and secure Olympic torch relay, working with all our partners to ensure a fantastic event ahead of the main games," said Supt Furnham.
"The Olympic torch relay will be a celebration of sport, culture and local heroes and for our local communities, and every torchbearer, the relay represents a once-in-a-lifetime opportunity; it is our job to ensure they enjoy their moment in safety.
"There is the expectation that thousands of people will turn out to see the torch as it passes through their local area."
Torch relay road route in Wales:
25 May: Worcester to Cardiff via Monmouth & Pontypool
[54KB ]
26 May: Cardiff to Swansea via Treorchy & Pyle
[57KB]
27 May: Swansea to Aberystwyth via Llanelli & Fishguard
[57KB]
28 May: Aberystwyth to Bangor via Dolgellau & Pwllheli
[50KB]
29 May: Beaumaris to Chester via Llandudno & Rhyl
[51KB]
30 May: Chester to Stoke via Wrexham & Welshpool
[66KB]