Taxi driver questioned on suspicion of attempted murder in Cardiff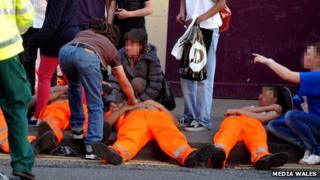 A taxi driver held following a collision between a taxi and eight men in Cardiff is being questioned on suspicion of attempted murder.
The man, 28, was arrested on Tuesday near the city centre, said police.
One man remains in hospital with burns following the incident on Wood Street bridge at around 19:00 BST.
South Wales Police has appealed for witnesses and is asking nearby firms and residents to examine any CCTV footage they may have which may help.
Seven ambulances were sent to the bridge, which was temporarily cordoned off to traffic.
All eight men, who were on foot by the Millennium Stadium, were taken to hospital for treatment.
The men are all from Cardiff. The one still in hospital is aged 35 and from the Grangetown area of the city.
South Wales Police said anyone with information is asked to contact Cardiff CID on 02920 527 420 or Crimestoppers on 0800 555 111.