Gwent Police's new appeal on Alex Chant moving vehicle injury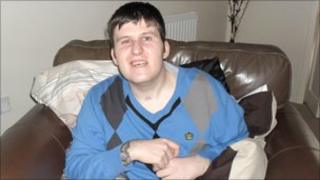 Police have re-appealed for witnesses two years after a man suffered serious head injuries leaving a moving vehicle.
Alex Chant, 22, of Lliswerry, Newport, was found injured at the side of the city's Southern Distributor Road at 11:30 GMT on Saturday 27 March 2010.
Detectives believe he was either pushed, fell or accidentally exited a dark-coloured people carrier.
Gwent Police said it had new information about small a rugby ball hanging from its rear-view mirror.
Police said Mr Chant had been out socialising in the Maindee area of Newport and had left Maindee Square at approximately 11:15 GMT in the people carrier which had a sliding door.
He was seen leaving the vehicle, which continued travelling towards the slip road to Stephenson Street.
Det Ch Supt Geoff Ronayne said: "We are asking people to think back to see whether they can remember a vehicle of a similar description operating at that time.
"What we do know is that the vehicle didn't stop and basically left him for dead at the side of the road.
"We need to identify the driver to find out what happened and why they didn't stop and render first-aid or even contact the emergency services."
Anyone with information is asked to contact Gwent Police on 101 or Crimestoppers, anonymously, on 0800 555 111.