Beachy Head death Cardiff mother and son named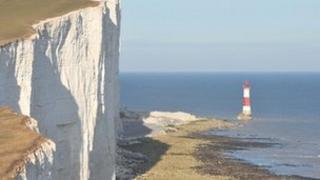 Two people who died after falling from cliffs at Beachy Head in Sussex have been named by police.
The bodies of Elizabeth Gosling, 81, and her son Christopher Gosling, 58, from Cardiff were recovered from the foot of the cliffs on Wednesday.
Mr Gosling had recently been arrested on suspicion of possessing indecent images.
Police in Sussex said the deaths were not being treated as suspicious and the coroner had been informed.
Post mortem examinations had shown that both died of multiple injuries.
On 24 March South Wales Police said Mr Gosling had been arrested two days before his body was found at the cliffs.
He had been released on bail while further inquiries were made.
Sussex Police believe the mother and son, from the Cathays area of the Welsh capital, may have stayed locally on Tuesday night.
The couple arrived at Beachy Head in a black Vauxhall Vectra at about 08:30 GMT on Wednesday, and it was found in the car park at the top of the cliffs.
Mr Gosling's body was seen at about 11:15 GMT by coastguards, and while recovery arrangements were being made, his mother's body was found nearby.
Sussex Police have appealed to any witnesses who saw the man and woman before they died.
Anyone with information is asked to call Sussex Police on 101, quoting serial 589 of 21/03.