Missing parrot Scarlet lands on owner Shannon Underhill at Bridgend school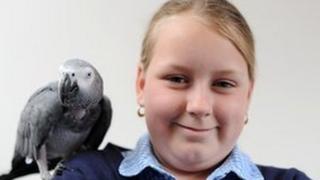 A missing parrot turned up two days after it disappeared by landing on the shoulder of its young owner at school.
Scarlet flew back into the lives of the Underhill family when she found nine-year-old Shannon during lunch break.
The talkative African Grey swooped into the playground of Llangewydd Junior School, Bridgend, a quarter of a mile from the family's Laleston home.
"I was nearly crying I was so happy," said Shannon, whose mother called the parrot's return a miracle.
She and her family had feared they would never see Scarlet again.
The bird escaped from her cage at the family home on Saturday.
When a teacher approached Shannon in the playground following Scarlet's arrival, the bird squawked: "Do you want a kiss?"
The school then called Shannon's father, Mark, and four-year-old Scarlet greeted him with the words "Hello daddy".
Shannon's mother Emma said: "After Scarlet was gone for more than 24 hours we never ever expected to get her back.
"But then I got a call from the school.
"I could not believe it and I said 'you must be joking' but the secretary told me 'no, she's sitting here right here on Shannon's shoulder."
School administration officer Charlotte Jury said: "I like to think she wanted to go home, and she found Shannon - the person who could take her there."