Sanskrit comedy The Master Madam on stage in Cardiff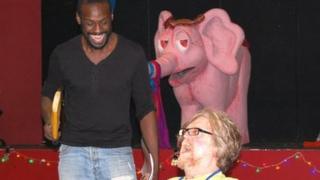 Boyd Clack is used to appearing in comedies, but none quite as classic as his latest project.
The actor and writer whose work includes the BBC Wales series Satellite City and High Hopes is heading a National Theatre Wales cast in Cardiff in performances of an ancient Indian comedy.
Bhagavadajjukam, which translates from Sanskrit as The Master Madam, is a farce dating in its written form to at least 610 AD, and which is believed to have an oral tradition going back 1,000 years before that.
It has been reinterpreted for a modern British audience by Dr Will Johnson of Cardiff University's Centre for the History of Religion in Asia.
"There's a huge body of Sanskrit theatre, and much of it is considerably older than The Master Madam," said Dr Johnson.
"Sanskrit plays are still very popular in India to this day, and there have been English translations of works since the late 18th Century; but this is the earliest example which anyone has been able to find of ancient Indian comedy."
"I hope the thing the audience take away with them is a sense that the historical context may change over time, but the situations and personalities which make people laugh have remained unaltered for millennia."
The Master Madam, which is being performed at the East Moors Community Centre in Splott, contains several themes and comedy devices which will be familiar to fans of Dad's Army, Quantum Leap, Ghost and Pretty Woman.
It focuses on a corrupt and pompous Brahmin, or yoga grandmaster, and his lazy and inept student.
After a clerical mix-up by Yama, the administrator of karma, the Brahmin's soul is swapped with the body of a high class courtesan.
The rest of the one-act performance concerns the juxtaposition of a prostitute in a Brahmin's body and vice versa, as well as their bungling attempts to return to their original forms.
Whilst it may seem quite a gentle comedy by modern standards, Dr Johnson believes that when it was first performed, it must have been fairly near to the knuckle.
"I first came across this play as a small part of a 35-day Hindu religious festival, and nowadays it's more commonly acted in India as a religious work."
"But whilst there are messages about the Hindu/Buddhist debate over the nature of the eternal soul, it's much more of a satire of the ruling religious elite of the day."
"Whilst it's needed some tweaking to be made relevant and understandable for a modern audience, I hope that what we've achieved is closer to the ancient intention; a classic farce involving pompous yoga teachers, incompetent disciples, beautiful courtesans, and dodgy doctors."
The play will be followed by an opportunity to question Dr Johnson and the cast, to learn more about Sanskrit theatre.
The Master Madam is at the East Moors Community Education Centre, Cardiff, on Thursday and Friday, 29-30 March.