Croespenmaen party attackers Liam Price, Niall Price and Owain Turner jailed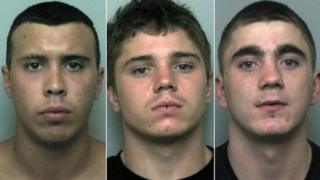 Three men who launched a series of attacks on an unconscious man have been jailed for a total of 14 years.
Brothers Liam and Niall Price and Owain Turner left their 25-year-old victim naked and injured in the street.
Cardiff Crown Court heard on Wednesday that the incident took place at a party in Croespenmaen, Caerphilly county.
Liam Price, 21, was jailed for six years, Niall Price, 19, for four-and-a-half years, and Turner, 22, for four years after admitting the assaults.
The court was told that the attacks began in August 2011 as a string of "practical jokes" on a friend who had passed out at the house party, but the situation soon escalated.
Their victim, who cannot be identified, was stripped naked and had his hair shaved.
He was then subjected to serious assaults, before being dumped unconscious in the street.
Parts of the attack were also filmed on a mobile phone.
The three defendants, all from Croespenmaen, were later arrested after their victim complained to the police.
They all pleaded guilty to a series of assault charges, including aggravated bodily harm and grievous bodily harm.
Judge Rhys Rowland told them: "Following a night's drinking this young man of 25 was subjected to a quite barbaric attack."
The judge said they had "thoroughly humiliated" their victim.
"He trusted you to look after him but he was subjected to a sustained and depraved attack."