St Mary Magdalene Church, Cwmbach, bells ring again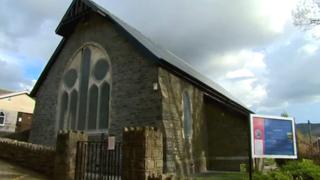 A 130-year-old church which has been without its bells for 15 years has rung them again as part of a £140,000 restoration of the building.
The work at St Mary Magdalene Church at Cwmbach, near Aberdare, took six months to complete and the first service since December was on Thursday night.
The church has been completely restored, repainted and has a new roof. The bells were also re-hung.
A grant and fundraising events paid for the work.
The Archbishop of Wales, Barry Morgan, who led the service, said beforehand: "This is a fantastic achievement for a relatively small and not so affluent community.
"It is a true cause for celebration."
The Venerable Chris Smith, the Archdeacon of Morgannwg, who is the parish priest, said the church was for the whole community to enjoy.
"People have given their time generously to bring the project to completion," he said.