Olympics 2012: Westgate Street, Cardiff, closes for work before first event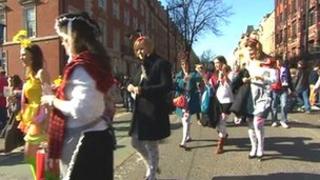 One of Cardiff's busiest roads is closing for two weeks for major work, 100 days before the nearby Millennium Stadium launches the 2012 Olympics.
Westgate Street will be resurfaced and have electronic bollards installed to enforce its closure on big sports days.
It will be open only to residents and businesses from Monday, 16 April to 30.
Cardiff council said the "essential maintenance" would improve the road for pedestrians, cyclists and motorists.
The stadium will host the Olympics' first events when it stages two women's football matches on Wednesday, 25 July.
It will put on 11 matches in total, including two quarter-finals.
Stadium general manager Gerry Toms said the official competition draw on Tuesday, 24 April would be "a massive day for football fans".
'Huge coup'
"The London 2012 football tournament in Cardiff is a huge coup for Wales and for many sports fans it's a once-in-a-lifetime opportunity to be part of the Olympic Games," he added.
From 16-23 April the Castle Street end of Westgate Street will be closed for eight days.
During this time, residents, businesses, deliveries and taxis will access Westgate Street from Wood Street.
From Tuesday 24 April, the road will close from its junction with Park Street.
There will be access from Castle Street.
Westgate Street will reopen on Monday, 30 April.