Newport West MP Paul Flynn wants blind cord safety changes after toddler's death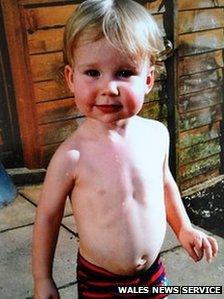 An MP has called for a change in how window blinds are designed after a toddler was strangled by a cord.
Newport West MP Paul Flynn said there needed to be a new impetus from the UK Government to put pressure on the industry.
Joshua Wakeham, nearly two years old, became entangled as he looked out of his bedroom window in the city.
Ministers called the death rate appalling and said they were working hard with the industry for change.
Since 1999, 22 children in the UK have died in incidents involving blinds - 11 since 2010.
Mr Flynn, was raising the issue in a Westminster Hall debate on behalf of Joshua's mother Tracy Ford, who lives in his constituency.
He argued that action taken in the past to prevent such deaths was clearly not working as the rate was increasing.
He commended the "bravery" of Ms Ford, who wanted the legacy of Joshua to be that no other child dies in such a way, he said.
Gordon Banks, the MP for Ochil and South Perthshire has also fought for change and said that the had the same debate in Westminster four years ago.
"I could say the same thing as I did then as nothing has changed," he said, adding that the current design of hanging loop blind cords was a "silent killing facility".
Business and Enterprise Minister, Mark Prisk, said the rate of death is "appalling" and that the government is working hard with the industry.
"There must be in integrated safety device to prevent strangulation and there must also be safety advice on the product.
"The key here is getting a consistent approach between the various standards organisations... If we can get a global agreement then the industry will change," he said.
Mr Flynn added the industry is reluctant to change and asked whether the government can give the industry some incentive - so that they can make some profit selling the safer blind.
But the minister added the industry should want to change to a safer product "without us dangling some tax relief or something."
At the inquest into the toddler's death in January, Gwent coroner David Bowen recorded a verdict of accidental death and said it was "not reasonable" for parents to monitor their children 24 hours a day.
After the hearing last month, Michael Corley, spokesman for the Royal Society for the Prevention of Accidents (RoSPA), said they were campaigning to raise awareness of the dangers of roller blinds, saying the nymber of deaths was "far too high".
He added: "We are calling for laws to reduce the risks of looped cords by placing safety devices in them or by getting rid of them altogether."
Related Internet Links
The BBC is not responsible for the content of external sites.