Peacocks: 147 jobs to go at south Wales distribution centres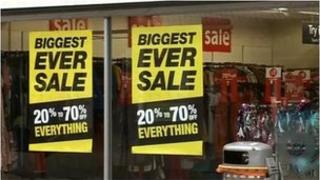 The retailer Peacocks has proposed cutting 147 jobs at three distribution centres in the south Wales valleys.
Consultation with staff is under way, although the company hopes the final figure will be much less.
The Cardiff-based firm employs 660 people at the sites in Nantgarw, Pentre in the Rhondda and in Merthyr Tydfil.
Peacocks was recently sold out of administration to Edinburgh Woollen Mill (EWM), saving 6,000 jobs although 3,100 staff were made redundant.
A spokeswoman for Peacocks, now owned by Edinburgh Woollen Mill, described the cuts as a "legacy" of administration.
She said the latest cuts were a "legacy of the administration process" as a distribution warehouse closed in Wattstown, also in the Rhondda, and all the staff were transferred to the remaining operations.
The reductions are said to be necessary as a result of the closure of the international branch of Peacocks - made up of more than 100 stores operated under a franchise system - as well 244 stores shutting around the UK.
The company stressed its remaining plans for the business remain the same, pointing out that more than 200 people have been recruited since EWM took over.
These include 50-or-so staff at the Cardiff HQ and the re-opening of 20 stores around the UK, including the flagship store in the centre of Cardiff.
A spokeswoman said: "Some of this was inevitable. This is a legacy of the administration process.
"Our aim is to have as few redundancies as possible.
"This is a process we have to go through but we are hoping the final figure will be much less."
The company hopes extra work can be found for staff at the distribution centres within the EWM group or that the staff can be deployed elsewhere.
Peacocks, with 611 stores and 49 concessions across Britain, had employed 9,100 people.
It went into administration in January having failed to restructure a key £240m part of its total £750m debt.
EWM bought the firm for £23m in a deal including 338 stores, 57 concessions, three distribution centres and the head office.
Last month, Philip Day, chairman and chief executive of EWM, said the company would look at giving "added value" to win customers back.