Julian Emms jailed for stealing £16,500 from fund for dying son Michael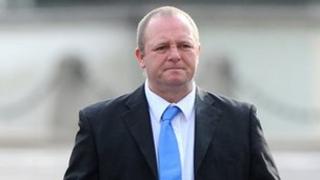 A father has been jailed for three years for stealing £16,500 raised from funds for his dying son.
Julian Emms, 46, from Ebbw Vale, Blaenau Gwent, took the money from the trust set up to aid his son Michael's battle with motor neurone disease.
He left £1,300 in the account, which was not enough to pay for Michael's funeral, who died aged 24 last year.
He was sentenced at Cardiff Crown Court after being found guilty of fraud at a previous hearing.
The judge said Emms, a father-of-three, had betrayed fundraisers.
Judge Robert Britton told Emms: "This was a most despicable crime and there was a degree of cunning.
"You were in a position of trust and the victim was your son who was relying on this fund.
"But the emotional loss to Michael's friends and family was also huge and this was the greatest form of betrayal."
The judge said the money taken had never been recovered.
The court heard that Emms tricked Michael's grandmother Anne Brandon, who was one of four people authorised to sign cheques.
Emms had said he was booking a holiday to the USA for Michael and needed two cheques, one for £3,000 for the holiday and the other for £300 for insurance.
Blank cheque
Meirion Davies, prosecuting, said Mrs Brandon wrote the cheques out to a travel agency and signed them, but left them blank because Emms had said he did not know the exact amounts.
But the court heard that Emms altered one of the cheques to obtain the £16,500.
Emms had a £15,000 business debt when the cheque was cashed.
The family had to take out a loan to pay for Michael's funeral last April.
After the case David Watts of the Crown Prosecution Service said: "Many people who gave to the fund will feel let down and angry to learn what happened to the money they contributed in good faith."