David Cook denies neighbour Leonard Hill's murder in Rhymney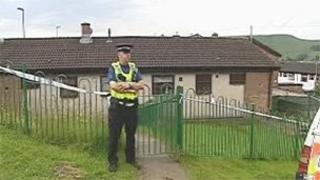 A convicted murderer has gone on trial accused of killing his neighbour in Caerphilly county.
Newport Crown Court heard David Cook, 65, beat Leonard Hill senseless before throttling him with a TV flex.
The body of Mr Hill, 64, was found in Mr Cook's home in Rhymney.
Mr Cook claims he lost control and killed Mr Hill after receiving unwanted sexual attention. He admits killing Mr Hill but denies murder last June.
After the killing, the court heard that Mr Cook ransacked his neighbour's bungalow, stealing his wallet before going to a nearby pub for a drink with locals.
The prosecution claims his motives were his debts.
Mr Hill had been bound around his legs and his arms.
The jury has been told that Mr Cook has previous convictions for robbery in the 1980s when he tied up his victims using tape, wire and cords.
They also heard how in 1987 he strangled Sunday school teacher Beryl Maynard with a dressing gown cord at her home in Reading.
The judge, Mr Griffiths Williams, warned the jury they must bear in mind that the fact he had been convicted of a murder in 1988 did not prove he was guilty of this murder.
David Aubrey QC, prosecuting, claimed that Mr Cook had a record of becoming violent when he fell into debt and lied to get his way.
He said Mr Cook had debts of £5,800 by the time of the killing and had instigated several moves to avoid being caught by his creditors.
He said Mr Cook would claim that he "lost control" and killed Mr Hill after he made a pass at him.
But when police searched Mr Hill's home they found numerous newspaper cuttings of topless models and 170 magazines containing pictures of naked women.
"At the time when he killed Leonard Hill this defendant had been released from prison on life licence, having been convicted of the murder of a woman in Reading in 1988," Mr Aubrey said.
He said nobody but the defendant knew for certain what happened on the day of the killing in June 2011.
"What is clear is that he beat Leonard Hill unconscious or semi-conscious," added Mr Aubrey.
"He then bound and gagged him using a pillow case and then throttled him until he was dead."
'Determined and merciless'
"He then concealed the body in his own bungalow and went on to build a barricade around it with pieces of furniture."
Two days after the killing, Mr Cook received a home visit from members of the team overseeing him in the community.
They later told the police that he acted "perfectly normally", making them coffee and chatting.
"All the while, the concealed body of Leonard Hill lay in the bedroom nearby," Mr Aubrey said.
Later, he left the area to stay at a bed and breakfast hotel in Cardiff, while Mr Hill's friends informed police after he stopped attending a local day centre.
Steps were taken to locate Mr Hill and a police officer eventually contacted Mr Cook on his mobile phone, asking if he knew anything.
The jury heard Mr Cook then left for Swansea and told police he had been away at a funeral.
Mr Aubrey said Mr Cook left a chilling message on the answering machine of a probation officer named Nicholas.
"Hi Nick, it's Dai here," the message, read by Mr Aubrey to the jury, said.
"Could you give me a ring because I have done something terrible? I have killed my neighbour."
Mr Cook went on to ask Nicholas to inform the police, saying he was at Swansea railway station, where he later gave himself up.
Mr Aubrey said the Crown submitted that the killing was "determined and merciless", but the defendant claimed he killed Mr Hill because he lost his self-control.
Mr Cook denies the murder of his neighbour in June 2011, but admits killing him.
The trial continues.