London 2012: Cardiff City Hall Olympic rings work starts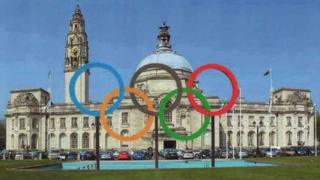 Work to install huge replica Olympic rings in front of Cardiff's City Hall is under way as the city continues its Games preparations.
The 5.7m (18ft) diameter interlocking rings in traditional Olympic colours of blue, black, red, yellow and green, will sit above the lawn fountain.
The Millennium Stadium will host the Olympics' first events, two women's football matches on Wednesday, 25 July.
Westgate Street is shut for retractable steel bollards to be installed.
Cardiff is to host 11 Olympic football matches in total, including two quarter-finals.
Teams from at least 19 countries, involving around 1,000 athletes and support staff, are expected to train in Wales for the Olympic or Paralympic Games.
The Olympic rings will be replaced in August by the three Paralympic "agitos", sweeping curves in red, blue and green, which will be displayed until December.
Floodlit
The displays, some 35m (115ft) from the building, will be floodlit and the aim is to make them the focal point of celebrations in the city.
The city's central area conservation group, which last year objected to the annual Christmas fair and ice rink being sited outside City Hall, has said it considered the proposal acceptable.
The £300,000 cost of the rings and agitos will be met by the Department of Culture, Media and Sport (DCMS) and not Cardiff Council.