Ysbyty Cwm Rhondda minor injuries unit to reopen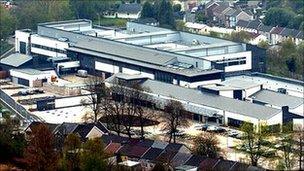 The minor injuries unit at Ysbyty Cwm Rhondda is reopening, seven months after it closed suddenly following staffing shortages at the health board.
The unit will run a new triage system, where patients ring to be assessed over the phone before coming in for a fixed appointment time if necessary.
Cwm Taf Health Board said the system should ensure patients are directed to the most appropriate place.
The service, called Phone First, will run as a pilot scheme for six months.
Everybody who rings will be assessed by a clinician and directed either to accident and emergency for more serious cases, given an appointment at the unit or referred to their GP practice for minor illnesses.
The board said in the past, some patients had attended the unit at the hospital at Llwynypia when they had significant emergency or urgent care needs.
They had put themselves at risk by going there rather than straight to A&E.
At the other end of the scale, some were using the unit as a replacement for an appointment with their GP.
When the unit closed last October, managers at the hospital said they had had to move nurse practitioners across from Ysbyty Cwm Rhondda to the A&E at the Royal Glamorgan Hospital in Llantrisant because of a shortage of doctors.
A spokesman for the health board said work had taken place to "strengthen the sustainability of A&E services within Cwm Taf and also to develop a new service model for minor injuries".
He continued: "Following a rigorous selection process appointments have since been made with a mixture of experienced emergency nurse practitioners and emergency paramedic practitioners with a skill set which will complement the existing medical and nursing workforce in our A&E departments.
"In turn, this has facilitated the re-opening of the minor injuries service at Ysbyty Cwm Rhondda as promised."
The board is running an information campaign across Rhondda to ensure the public is aware of the changes to the system during the pilot, including giving presentations, posters and sending home fliers in school children's bags.
Related Internet Links
The BBC is not responsible for the content of external sites.